Emory offers a diverse collection of performances and concerts for the month of February, with visiting groups, themed events and acclaimed artists.
Emory Chamber Music Society of Atlanta presents a Pajama Concert on Friday, Feb. 10 at 7:30 p.m. in Michael C. Carlos Museum. Enjoy hot chocolate with marshmallows on a winter evening with Night Music by Mozart, Chopin, Bartok , Beethoven and Schumann, performed by Emory's own Vega String Quartet and William Ransom on piano. Feel free to wear your pajamas and bring your best pillow! Tickets: $4; Museum members family level and above, free (limit 4).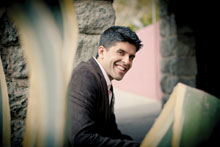 Sachal Vasandani headlines Emory Jazz Fest on Feb. 10, (courtesy of Sachal Vasandani).
Also on Friday, Feb. 10, vocalist Sachal Vasandani and the Gary Motley Trio perform at Emory Annual Jazz Fest at 8 p.m. in Schwartz's Emerson Concert Hall. Vasandani is described as a versatile vocalist with the sensibility to straddle the line between jazz and pop with songs. He performs with Gary Motley, piano; Herman Burney, bass; and Terreon Gully, drums. Tickets: $15; Discount category members $10; Emory students free.
Experience the music of Asia, with the Asian Music Festival taking place on Thursday, Feb. 16, Saturday, Feb. 18 at 7 p.m., and Sunday, Feb. 19 at 7 p.m. and 3 p.m. in the Performing Arts Studio. This festival will feature four concerts performed by seven Asian music ensembles in Emory's world music program, and highlights the traditional and contemporary music of China, Korea, Indonesia, North India, South India and Tibet.
On Friday, Feb. 17, Kronos Quartet with Alim Qasimov Ensemble will be performing as part of the Flora Glenn Candler Concert Series at 8 p.m. in Schwartz's Emerson Concert Hall. Singer Alim Qasimov, called "one of the most thrilling, unashamedly emotional performers on the planet" by the Guardian newspaper in Britain, will be performing pieces drawn from the repertoire of Azerbaijani ashiqs in collaboration with the Kronos Quartet. Tickets: $38; Discount category members $30; Emory students $10.
Emory Chamber Music Society of Atlanta Noontime Series presents "Side by Side," a performance of Mozart's "Gran Partita" for winds by a combined ensemble of Emory faculty and students. Also on Friday, Feb. 24, the Emory Wind Ensemble performs at 8 p.m. in the Schwartz's Emerson Concert Hall.
February closes with visiting artist Jonathan Biggers, organ as part of the Emory University Organist Recital Series, performing Fantasies by Mozart, Franck and Reger on Sunday, Feb. 26 at 4 p.m. Organist Jonathan Biggers is an organ professor at SUNY Binghamton and performs to acclaim all over the world.
All concerts take place in the
Schwartz Center for Performing Arts
and are free and open to the public unless otherwise indicated. For details and information, contact the Arts at Emory box office at 404-727-5050, or visit
arts.emory.edu
.
---