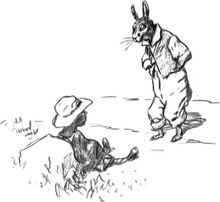 Two upcoming lectures offer fascinating insights into specific events in U.S. medical history, related to public health, research and medical ethics. And a third event offers live opera with a discussion about Joel Chandler Harris' "Br'er Rabbit" tales.
The Atlanta Opera's newly-commissioned opera, "Rabbit Tales," based on the beloved Br'er Rabbit stories will be the platform for storytelling, live performance and discussion. "Tangled in the Briarpatch: Tricksters, Underdogs, and Br'er Rabbit" will be Wednesday, Feb. 29, at 7 p.m. and will feature storytelling, live performance, and discussion.  Lawrence Jackson, Emory professor of English and African American Studies; Lain Shakespeare, member of the Joel Chandler Harris Association Board of Directors; and Madeleine St. Romain, the librettist of "Rabbit Tales" will discuss how different audiences and periods have viewed, understood and judged these stories.  
"Escaping Melodramas: The U.S. STD 1946-48 Experiments in Guatemala and their Aftermath" will be discussed by Susan M. Reverby, historian of medicine, on Thursday, March 1, at 5 p.m. in Room 120 of the School of Medicine.
Reverby unexpectedly uncovered records of a U.S. Public Health Service study conducted in the 1940s in Guatemala involving diseased sex workers, inoculation of unsuspecting subjects with bacterial inoculum, and failure to treat participants when infection followed.
Reverby will discuss how she found the papers, brought them to the attention of the CDC, and witnessed the aftermath--apologies at the federal level and the swift investigation by the Presidential Commission for the Study of Bioethical Issues, of which the Vice Chair is Emory President James W. Wagner.
On March 7 at 4 p.m. in Room 102 of the Center for Ethics Commons, Jason Karlawish will read from and discuss his recently published novel "Open Wound: The Tragic Obsession of Dr. William Beaumont."
Based on true events along the 19th century American frontier, "Open Wound" fictionalizes the complex, lifelong relationship between Beaumont and his famous patient Alexis St. Martin, a young fur trapper whose shotgun injury never completely healed, leaving a hole into his stomach. Beaumont's experiments on his patient show the best and worst aspects of American ambition and power.
For more information, see the Center for Ethics calendar. 
---