Exploring religious diversity in communist Cuba
By Mary Loftus | Spirited Thinking | July 21, 2013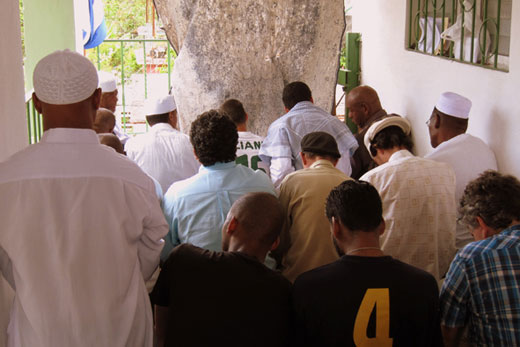 Although Muslims comprise a small percentage of Cuba's population, Havana's Muslims report that plans are underway to build a mosque in the city. Photo by Michael Leo Owens.
We filed quietly up the stairs, scarves pulled over our hair as a sign of respect, into the local imam's small but cheerful living room, which was filled with Muslim women gathered for afternoon prayers. They welcomed our group enthusiastically, breaking out drinks, crackers, and cookies.
They were as curious about our lives and perceptions as we were about their religious lives as Muslims in Cuba. According to a Pew Research Center report from 2009, there are 9,000 Muslims in Cuba, or 0.1 percent of the population. (Most religious Cubans practice Catholicism or a blend of Catholicism and African religions, such as Santeria.)
Through an interpreter, the imam, a tall man with kind eyes and a white beard, said that a mosque was being built in Havana soon—a long-rumored dream of local Muslims and promised relief to the men crowded onto the open-air porch of the imam's home.
"We feel accepted here," said one of the women, a lawyer by profession, as is her daughter. "We do not have trouble."
That was the consensus of most of the religious leaders and laypeople we spoke with as part of a Journeys group from Emory that visited Cuba for 10 days in May to investigate issues of religion, race and reconciliation.