Religion scholars go public: Faculty who step into the media spotlight
By Elaine Justice | Spirited Thinking | March 31, 2013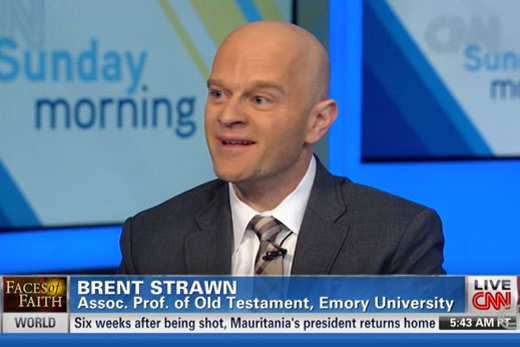 If you tune in to CNN on Sunday mornings, chances are you've seen Brent Strawn, smooth-pated smooth-talking associate professor of Old Testament at Emory's Candler School of Theology, engaged with anchors such as Don Lemon on Christian topics ranging from myths about the nativity to the new Pope.
Strawn has made about 15 or so CNN appearances in the last 18 months. He says it's enjoyable but also stressful and requires preparation—he discusses questions with the producer and does research on topics and specific questions prior to his appearances.
"I'm no Sanjay!" says Strawn, referring to Emory's and CNN's own Sanjay Gupta, who serves both as assistant professor of neurosurgery and chief medical correspondent for the network.
Yet Strawn is one of a wide range of religion and ethics faculty at Emory who take their knowledge and expertise on religion to the wider world in their roles as public scholars.