In Rome with the new pope: Emory student has front-row view
By Elaine Justice | Spirited Thinking | March 17, 2013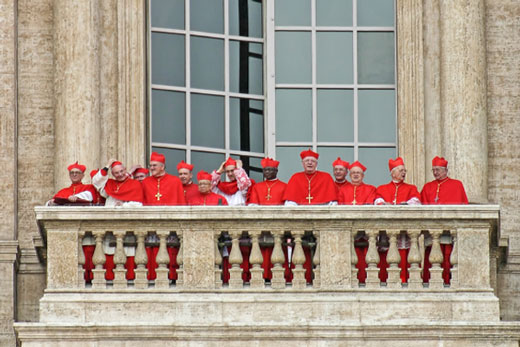 Cardinals gather on the  balcony of Saint Peter's Basilica after election of Pope Benedict XVI in 2005.
Emory student Grace Mackowiak may have known when she signed up for study abroad in Italy this semester that she would be living close to the Vatican, but she didn't foresee having a front-row seat to history, with the first papal resignation in hundreds of years and the election this week of Pope Francis I.
"I am lucky to be here through this process," says Mackowiak, a sophomore from St. Louis minoring in Catholic studies.  She says the public mood was conflicted when Pope Benedict XVI made his surprise resignation announcement: "Some don't care, some argued in cafes, others were distraught. My grandma called me, saying, 'Grace, you've been in Rome for a week and the pope resigns—what did you do?'"
Mackowiak says she has "the privilege of walking through Piazza San Pietro (Saint Peter's Square) on the way to school and back every day." (It was fun to see whether Pope Benedict had his light on at night, she reports.)