The start of Emory's new academic year is just around the corner, with faculty and staff across campus making final preparations for the arrival of students. Here are 10 things you need to know as the Atlanta and Oxford campuses transition from summer to fall. 
1. Many students arrived early for preorientation programs.
First-year students participating in preorientation programs arrived on the Atlanta and Oxford campuses Aug. 14. More than half the incoming class for Emory College and Oxford College registered for preorientation programs that help them connect with others who have similar interests. From outdoor adventures and leadership lessons to community engagement and interfaith experiences, they'll spend several days acclimating to life at Emory before orientation begins Aug. 18 at Oxford and Aug. 19 in Atlanta.
2. Other students will move in this weekend, with classes starting next week.
First-year and transfer students who are not participating in preorientation programs move into Atlanta campus housing Aug. 19, with other undergraduates following on Aug. 20. Oxford College move-in days are Aug. 18 for first-year students and Aug. 21 for second-year students. Learn more about Atlanta campus move-in procedures, orientation activities and Oxford College move-in on the Emory Welcome app. Classes for Emory Law students began Aug. 14; undergraduate and all other graduate classes begin Aug. 23.
Atlanta campus students will celebrate the start of a new semester with First Day Fest on Aug. 23. Featuring food, games, swag and even several rides, the carnival-style event helps students create community and relax after the excitement of move-in and classes beginning. The event takes place on the Quad from 7-10 p.m. and is hosted by the Student Programming Council.
If you are not involved with move-in for students, you may want to avoid driving to campus on those days due to heavier traffic. However, volunteers are still needed during orientation and to help welcome new students and families to Emory. If you're interested, sign up to help.
3. You can welcome the Class of 2027 at the Emory Gate Crossing + Coke Toast.
One longstanding tradition for Emory's first-year students is a Coke Toast on the Quad during orientation. Help welcome the Class of 2027 for Emory College of Arts and Sciences during a special event on Monday, Aug. 21.
Faculty, staff, fellow students and alumni are invited to gather at the Haygood-Hopkins Gate at 11:15 a.m. to cheer on the Class of 2027 as they walk through the gate and proceed to the Quad. Once there, President Gregory L. Fenves will lead a Coke Toast. Find more details here.
4. Two new deans have joined the Emory community.
Emory College of Arts and Sciences and Oxford College both welcome new deans to campus this semester.
Barbara Krauthamer, an award-winning author and historian, joined Emory on July 1 as the next dean of Emory College of Arts and Sciences. Previously, she served as dean of the College of Humanities and Fine Arts at the University of Massachusetts Amherst.
Krauthamer says her first priority is learning more about Emory as a community and an institution. "I want to know more about where Emory has been and where it sees itself going," she says. She also hopes that building relationships with students, faculty and staff will help her understand their experiences and work collaboratively to strengthen both community and operations across the College so that "everyone can achieve their full potential at every level."
Badia Ahad, a recognized teacher, innovative scholar and seasoned academic leader, is the new dean of Oxford College. She joined Emory on Aug. 1 after serving as vice provost for faculty affairs and professor of English at Loyola University Chicago.
"I think my most important role as dean will be to ensure that students, faculty and staff have the tools and the resources that they need to be and to do their best," Ahad says. "I want students at Oxford to have an academic experience that not only cultivates intellectual rigor and curiosity, but also helps them find their own sense of purpose and how that purpose is going to serve others." 
5. New gathering spaces will open around campus.
Community is vital to Emory, and new spaces unveiling this fall will serve as gathering spots for conversations, connections and more.
The Emory Interfaith Center offers a new place for worship, prayer, meditation, dialogue and retreat for Emory's diverse religious communities. It is a home away from home for Emory's many spiritual communities, a new center promoting interfaith study and engagement, and a gateway for engaging in service the Atlanta community and beyond.
The center will include spacious and flexible sacred spaces; common spaces and meeting rooms; and offices for many of Emory's multifaith chaplaincy team members. In addition, the grounds will offer areas for contemplation and enjoying nature's beauty.
The Interfaith Center is already open but will be officially dedicated in October during Homecoming and Family Weekend festivities.
The Belonging and Community Justice identity spaces will open fall semester on the third floor of Cox Hall. These include the Center for Women, Centro Latinx, Emory Black Student Union (EBSU), Lesbian Gay Bisexual Transgender (LGBT) Life and the Asian Student Center (ASC).
These new identity spaces provide more room for students to learn about different cultures and a place for students to connect across their identities, expanding their personal understanding of themselves, the world around them and making deep connections to those with shared experiences. 
Students will be able to start visiting the spaces after Labor Day with the grand opening taking place during Homecoming and Family Weekend.
Once the Identity Spaces in Cox Hall open, Campus Life will return some of its student-facing services and resources (that were previously displaced or relocated) to the first floor of the AMUC. The goal is to enhance students' convenience and access to the resources they use most while creating more reservable collaboration and programming space for students across both the Student Center and the AMUC. 
For students on the Clairmont Campus, the café located in the Student Activity & Academic Center (SAAC) was fully renovated during the summer. The updated café provides an enhanced ordering experience complete with a new takeout window and additional shelving space to provide a wider variety of grab-and-go options. From flatbreads and salads to burgers and sandwiches, the Clairmont Café has many made-to-order offerings. All tenders, including meal exchange, Dooley Dollars and Eagle Dollars, are accepted. Clairmont Campus Café is open 11:30 a.m.-10 p.m. Sunday through Thursday; 11:30 a.m.-8 p.m. Friday; and 12:30-8 p.m. Saturday.
6. Activities across campus abound.
Whether you enjoy attending concerts, visiting art exhibitions or learning from thought-provoking speakers, fall semester includes events for everyone.
7. Mental well-being resources are available for students, faculty and staff.
Attention to well-being is foundational to students' ability to flourish at Emory and beyond. Within the Emory community, students have access to coordinated and comprehensive medical and psychiatric care, counseling, recreation facilities and programs, and health education targeted at building and maintaining overall well-being.
Students can reach out to Emory's Counseling and Psychological Services or Oxford Counseling and Career Services for information about confidential support through in-person and online appointments. TimelyCare telehealth services are also available to all Emory students free of charge. The Office of Respect also offers students on the Atlanta campus confidential, 24/7 support with concerns related to sexual and relationship-based harm. A variety of well-being resources for students can be found at Be Well, Your Way. 
University faculty and staff can access a range of emotional support programs including webinars, well-being check-ins, counseling and more through the Faculty Staff Assistance Program (FSAP). Emory Healthcare employees can access services through the MyBHS Portal (user name: EHC).
8. Follow campus safety tips and prepare to stay informed in an emergency.
Returning to campus is a good time to be reminded of safety tips from the Emory Police Department and the Office of Critical Event Preparedness and Response (CEPAR).
Download and review the new Emory Safe app, launching Aug. 16 (the existing app, LiveSafe, will sunset by September). Use the app to receive safety alerts, request a virtual police escort to your destination and more.
Save the Emory Police emergency number in your phone: 404-727-6111.
Complete CEPAR's preparedness checklist for students or faculty and staff. You should also review CEPAR's "Just In Time" guide, which details how to handle campus emergencies.
9. The Emory Forward website serves as a central repository for COVID-19 information.
As the Emory community begins this fall semester, we want everyone to stay safe and healthy across campus. To be best prepared, visit the Emory Forward website often for the latest information about what to do if you test positive for COVID-19, vaccine guidelines, testing resources, masking, policies and more. 
10. Remember your options for getting to — and around — campus. 
Emory's Transportation and Parking Services Department has a wealth of information about parking permits, commuter options and getting around campus safely.
Mark your calendar for Homecoming and Family Weekend
The new semester is just beginning, but it's not too early to be looking ahead to Homecoming and Family Weekend 2023. Mark your calendar for Oct. 18-22 to celebrate "Emory Heart + Atlanta Soul" with concerts, reunions and much more.
Visit the Homecoming Weekend 2023 website to view the full schedule and register for the fun.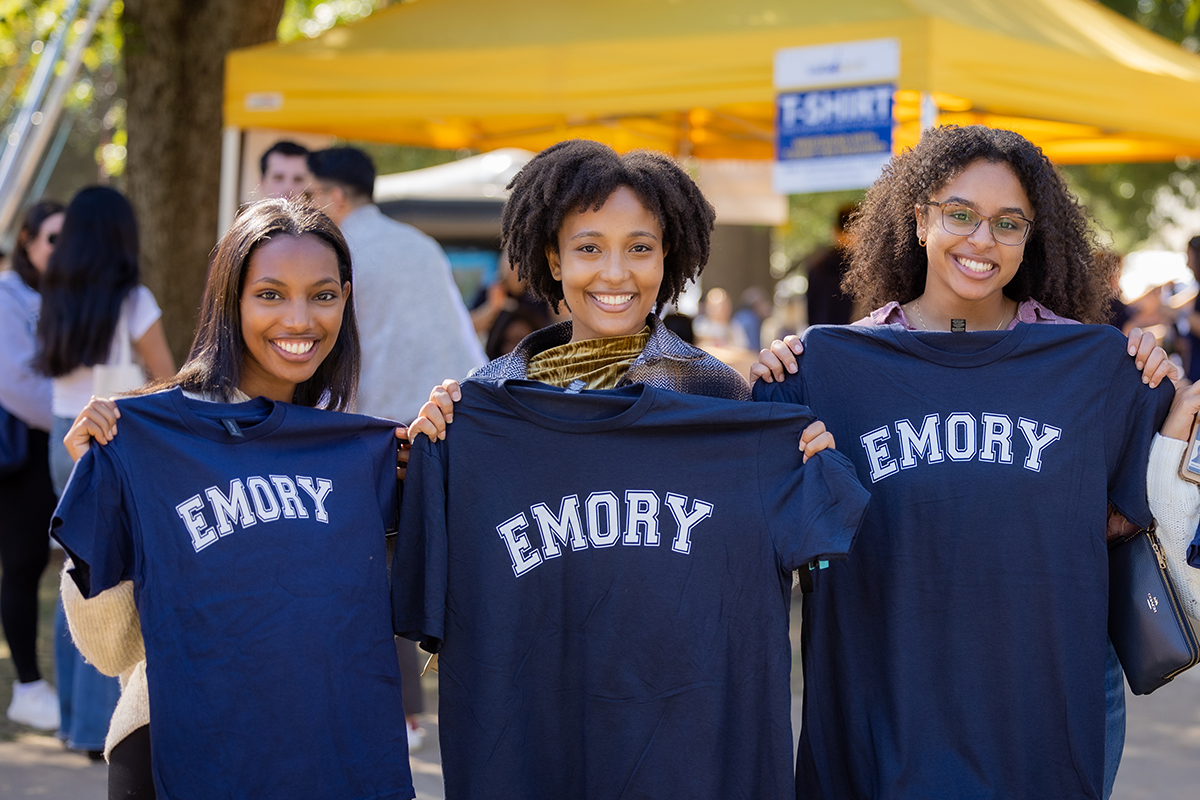 ---