Gospel music, spirituality and seeking community at Emory brought them together. Now the alumni and friends of Voices of Inner Strength (VOIS) gospel choir have reunited to create an endowment that will provide continuing financial support for this community at Emory.
"I'm just thrilled to know that VOIS and gospel music are going to be available to students for years to come, as a permanent part of the fabric of Emory University," says Yolanda K.H. Bogan 87C, a psychology major who made the first lead endowment gift.
"Gospel music is unmatched in its depth of feeling and emotional power," says Emory President Gregory L. Fenves. "With this investment in Voices of Inner Strength, our university will benefit from performances that will touch our hearts and minds and uplift our community for generations to come." 
Connecting spiritually through music
Bogan and her friends started VOIS in 1985, partly because they wanted to feel more at home at Emory during a time when there were few Black students on campus. Gospel choirs were a common way for such students to gather and connect. Now she has helped plant the endowment out of a desire "for students to be able to connect spiritually through gospel music, and for this to be an opportunity for any student at Emory," she says.
Spiritual connections motivated other VOIS alumni donors to also contribute.
"VOIS has touched my life and the lives of thousands of students," says Gina Atwater 06C, another leadership donor among more than 100 donors who have contributed to the VOIS Forever endowment. "I am overjoyed that its future as part of the Emory community is assured, and it will outlast us all. I have every belief that VOIS will continue to shape the cultural landscape at Emory, building on the foundation that Maury Allums has laid."
Allums recently celebrated 30 years as a musician and director with VOIS, making him the common denominator in many of the choir's memories. The endowment will sustain the community that he has worked so hard to cultivate over the decades.
"I am forever grateful for the endowment fund and the possibilities it will provide for VOIS in the future," says Allums, who also serves as director of music in Emory's Office of Spiritual and Religious Life (OSRL).
"VOIS provides a community for students at Emory to grow, feel safe and to care for themselves spiritually and emotionally," Allums says. "And VOIS has also created opportunities for outreach to students and young people all over the country. On tours, VOIS has engaged in concerts and community service to be a light for young people considering college, who see their own potential as they witness the exemplary Emory students who are part of VOIS."
No final song
The campaign to establish the fund exceeded the minimum $100,000 needed to establish a program endowment, and it is currently expected to contribute roughly $5,000 a year to start supporting the activities of the choir. VOIS' current activities include fall and spring concerts, and the intercollegiate "Soul Food Gospel Fest," which will resume after a hiatus of several years on Sunday, Feb. 19, at 3 p.m. in the Emory Student Center.
For lead donor Julie Spencer Washington 88C, the endowment released her longtime worry: Will VOIS remain a part of Emory's community or will it someday become a past memory?
"Serving year-to-year and not knowing your future is not the way to build a lasting legacy," Washington says. "I wanted to do my part to focus on how we build the power of what VOIS can be for Emory and Atlanta. My gift bears my belief in what we have always been trying to do at Emory, to be a beacon of light. It is not just what the endowment does for VOIS, but what VOIS can do for others."
VOIS includes students of diverse backgrounds who share a love for spirit, song and community. The group's welcome and deep support, especially for Black students at Emory, has been a critical inspiration for the alumni donors.
"VOIS was less to me about gospel singing than it was about a really supportive community that helped students navigate the complexities of college life," says donor Anjulet Tucker 00C 09PhD, director of presidential initiatives and special projects at Emory. "The VOIS community connects regardless of anyone's changing religious identity, and that is pretty important."
Strengthening inner voices
Longtime VOIS friends came together on Jan. 15 in Cannon Chapel for Emory's annual MLK Sunday worship service. Allums directed as the VOIS singers accompanied the Beloved Community worship service, and VOIS alumnus Rev. Tolton Pace 00C 02PH delivered the sermon. "Voices was my faith incubator," said Pace, one of several alumni to testify that day.
"My favorite moments were office hours," neurologist Mitzi Joi Williams-Brown 00C told the congregation. "We would all cram into Maury's little bitty office, and Anjulet would be on the keyboard, and we would be in there together trying to come up with songs."
Then the success of endowing the choir was announced. University Chaplain and Dean of Religious Life, the Rev. Gregory McGonigle, said a prayer of dedication for these offerings.
"We give thanks for Maury Allums and his decades of dedicated service, as well as for the past choir directors, chaplains and others who have supported the choir over time, and those who have reconnected the alumni family to make VOIS truly a community of belonging today," McGonigle prayed.
"We rejoice in the generosity of the many alumni and friends who have gathered their gifts and prayers to make VOIS last forever at Emory, to bless students and all who have the joy to hear them… Each of us has an inner voice that is strong and can be strengthened by grace and by the circle of this community. May we hear that voice calling us today, and may it grow stronger through the blessing of music and fellowship so we may be emboldened to do justice and goodness in this world."
The moment reflected a silver lining of the pandemic, when choir alumni who were social distancing reconnected with each other through two online reunions, and then one in-person reunion held outdoors at Homecoming 2021. Friendships rekindled, creating the momentum for alumni to envision the endowment fund. Many are first-time donors to Emory.
"We realized we were connected in the moment of our reunions, but we could remain connected through working together toward this common goal of the endowment fund," Bogan says. "Knowing that you're working together to enrich the lives of students from now going forward feels wonderful."
2023 Soul Food Gospel Fest
VOIS will hold its annual Black History Month celebration, the Soul Food Gospel Fest, welcoming choirs from universities around Georgia, on Sunday, Feb. 19, at 3 p.m. in the Emory Student Center Multipurpose Room 4. Registration is available online.
For more information or to give toward the VOIS endowment, contact religiouslife@emory.edu.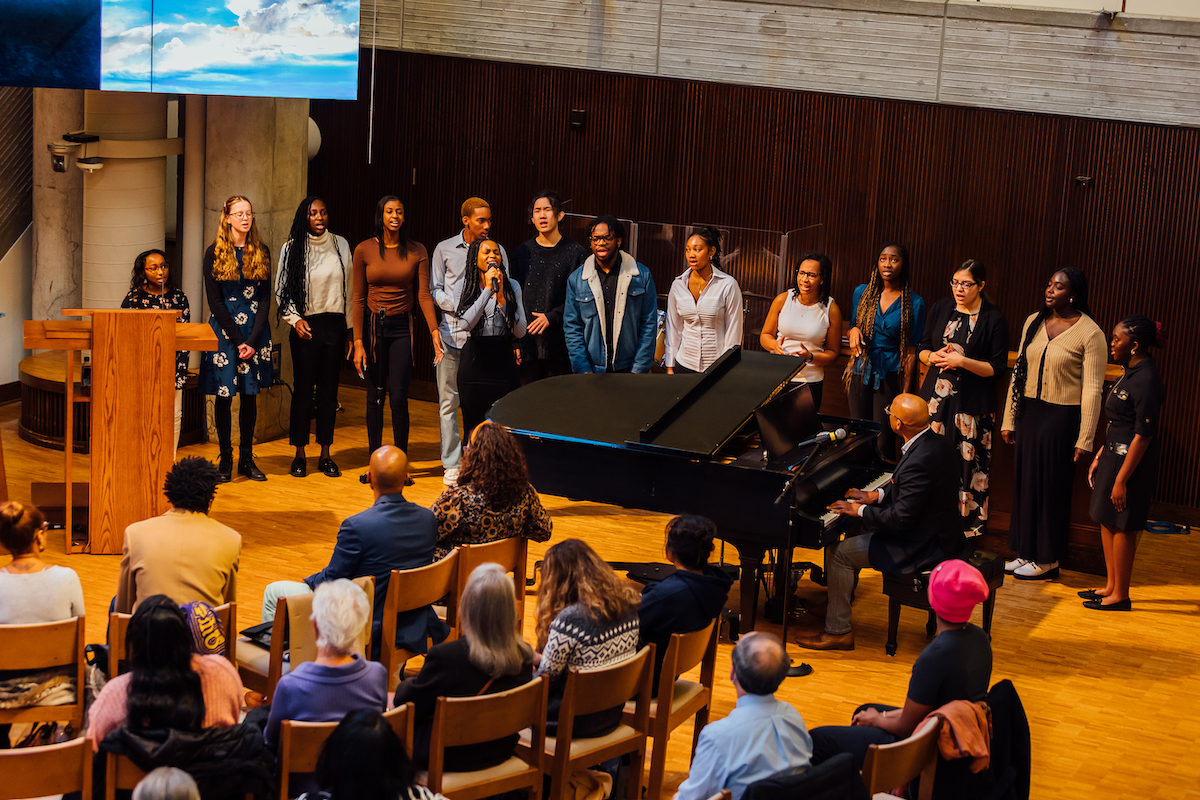 ---