"Only it seems to me that once in your life before you die you ought to see a country where they don't talk in English and don't even want to."
This line from arguably the most well-known play in the American theater canon, Thornton Wilder's "Our Town," comes from Mrs. Gibbs. In the play's new incarnation by Theater Emory, she is the Chinese mother of son George, who falls in love with Emily Webb, thus sparking a love story that ends in her tragic death during the birth of their second child. Adding Mandarin and a Chinese character to the play is part of the unique contribution of the Emory production.
Gibbs' line is particularly resonant since the play has expanded its languages nearly a century after it premiered in January 1938 at the McCarter Theatre in Princeton, New Jersey, later bound for success on Broadway and around the world, and resulting in a Pulitzer Prize for its author.
In 2017, by agreement with the Wilder estate, a trilingual version of the play was done with the addition of Spanish and Haitian/Creole. When that accord was struck, Tappan Wilder, the playwright's nephew and literary executor, noted: "I saw it as the next step in a play that, from the beginning, was international."
Theater Emory adds to the play's multiculturalism
Now, Theater Emory takes that momentous change a step further, staging a version that will be in English, Spanish and Mandarin, powered by the linguistic expertise of Emory faculty and students. The run is from Feb. 16-26 and will feature six professional actors and 14 students, including Ashley Alves 24C in the role of Emily Webb.
Lydia Fort is an assistant professor of theater studies, and Marguerite Hannah is the associate artistic producer at the Horizon Theatre. As co-directors of the Emory production, Fort and Hannah have chosen languages that better reflect the Emory and Atlanta community. In this version, called "Our Town (Multilingual)," the Gibbs family speaks Mandarin in a Beijing dialect while in their home, and the Webb family speaks Spanish. Supertitles in English, Mandarin and Spanish will be projected so audience members may follow along.
Asked how she wanted to produce "Our Town (Multilingual)" in a post-pandemic world, Hannah replied: "We've got to challenge and investigate the things that are implanted in our DNA. The human condition is the same from family to family, but our lives brought us to this place in a whole different way."
What it took to update a classic
Michel Hausmann, founding artistic director of Miami New Drama, is an immigrant who had not encountered the play as a rite of high school passage. Reading it in his 20s, Hausmann fell in love with the play, saying, "It remained in my mind for many years until I could find a way to do an 'Our Town' that felt important to the 21st century and had a relationship with the community that I was a part of."
With translations in Spanish by Nilo Cruz and Haitian/Creole by Jeff Augustin, Miami New Drama staged this new version to acclaim in 2017. Cast members recall that when Miami schoolchildren saw the play, they shrieked with delight when their languages were used.
For Maria Elva González-Hernández, the Spanish coach for the Emory production as well as an associate teaching professor in the Department of Spanish and Portuguese, hearing that story made her emotional.
"To hear your language, Spanish, included in an artistic production reminds those schoolchildren, and all of us who speak and love the language, of who we are. It brings a sense of pride, providing a valued representation of the language spoken at home and making us part of a larger community. What does the inclusion of Spanish mean in a universal story like this? It's very simple: You matter."
The contributions of Emory's language experts
The Spanish translation in the Emory production is that provided by Cruz, but it has been adapted to include variants more widely used in Atlanta. González-Hernández's role is to help the actors with phonetic and intonation aspects, but the job is bigger.
"It's not just the lines," she says. "Language is itself a performance. The actors need to pay close attention to the deep meaning behind those words in Spanish and harness its power to be translated into a powerful theatrical moment."
González-Hernández also worked with Emory student Paloma Juarez 25C, who edited and adapted the Spanish supertitles.
Born in a small Texas border town, Juarez, a film and media studies major, acknowledges that it was "quite hard to adjust to a multicultural community when I moved here. I felt a bit insecure and felt like I would be lost. However, after getting to know people within Emory and participating in this project, I got more in touch with my heritage and got to appreciate it more. I'm excited to see what impact the show can have on others."
Allison Ye Qin is the Chinese language coach and a visiting scholar in the Department of Russian and East Asian Languages and Cultures (REALC). Qin first encountered the play in China, where it is quite popular, in 1987. For the Emory production, she worked with students Yiyi Gu (Daisy) 24C, Yuyao Wang 23B and Dorothy Shi 26C.
These three students were part of a Chinese drama course taught by
Maria Franca Sibau
, an associate professor of Chinese in REALC. Sibau designed a group project that included both translation and reflection in order to involve students with different linguistic skills and backgrounds in meaningful ways. The result was three different translations (the one by Gu, Wang and Shi being chosen for the play) and three reflection projects, including this
podcast
about the play.
Gu, an East Asian studies major, is a member of the Emory Chinese Theater Club and has been involved in two previous Theater Emory productions and explored theater from both the production and directing side.
"I think the multilingual version of 'Our Town' is a really amazing idea and could only be made possible in a multicultural community like Emory," Gu says. "Being a Chinese translator in this version gives me a precious chance to combine my first language, major and interest in theater."
The time period represented in the play is from 1901 through 1913 — a painful, racist period for Chinese immigrants. Laws at the time criminalized interracial marriage; moreover, the Chinese Exclusion Act was passed in 1882 and remained in effect until 1943.
The play's chronology, says Wang, "helped me learn a lot about Chinese people's lives during that time period." She further observes that "it is not common for American-born Chinese families to be shown onstage, so I hope people will think about the cultural aspect of the play more."
"Atlanta's Chinese community will be interested in this play because it's an opportunity to discuss Chinese immigrants like Mrs. Gibbs and the second generation like George and Rebecca. This play will at least prompt a discussion around culture, identity and diversity issues that continue to affect our lives from the past to the present day," says Qin.
Valuing life while we live it
In the play, when Emily Webb comes back from the dead, she relives her 12th birthday but realizes how little people register the simple joys of life. That idea will never grow old, says Qin, who reflects on the burden that the zero-COVID policy placed on the Chinese people.
"I believe this play can strike a chord in the hearts of a Chinese audience, and indeed all of us, because we are now all deeply aware of how precious a peaceful and uneventful daily life is," Qin says.
González-Hernández echoes the feeling of so many associated with the production. She is grateful to Hannah and Fort for their determination to build upon the inclusivity of the Miami New Drama production.
"On the one hand," she notes, "viewers see themselves in the characters no matter the language. That was the case for almost a century. But make no mistake; what viewers will see when they come to this production is a love letter to the many little 'pueblos' inside Atlanta and an act of empathy to honor other people's stories in this way."
"Our Town (Multilingual)" runs Feb. 16–26
All times are 7:30 p.m., with the exception of matinee performances on Sunday, Feb. 19 and 26, at 2:00 p.m.
Location: Theater Lab, Schwartz Center for Performing Arts, 1700 N. Decatur Rd.
Tickets: $15, available through the Schwartz Center Box Office.
Emory students are admitted free of charge.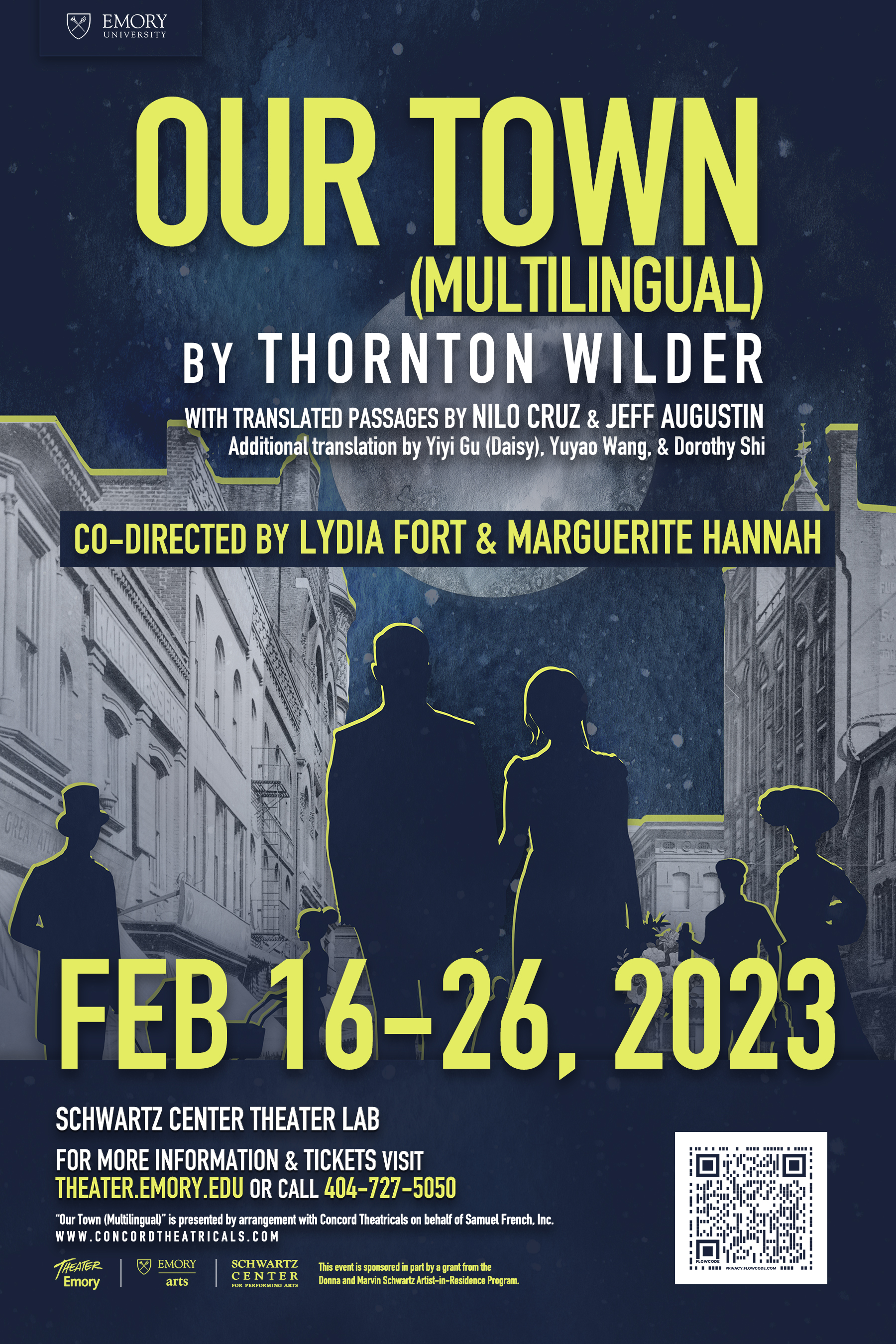 Photos by Kay Hinton, Emory Photo/Video
---