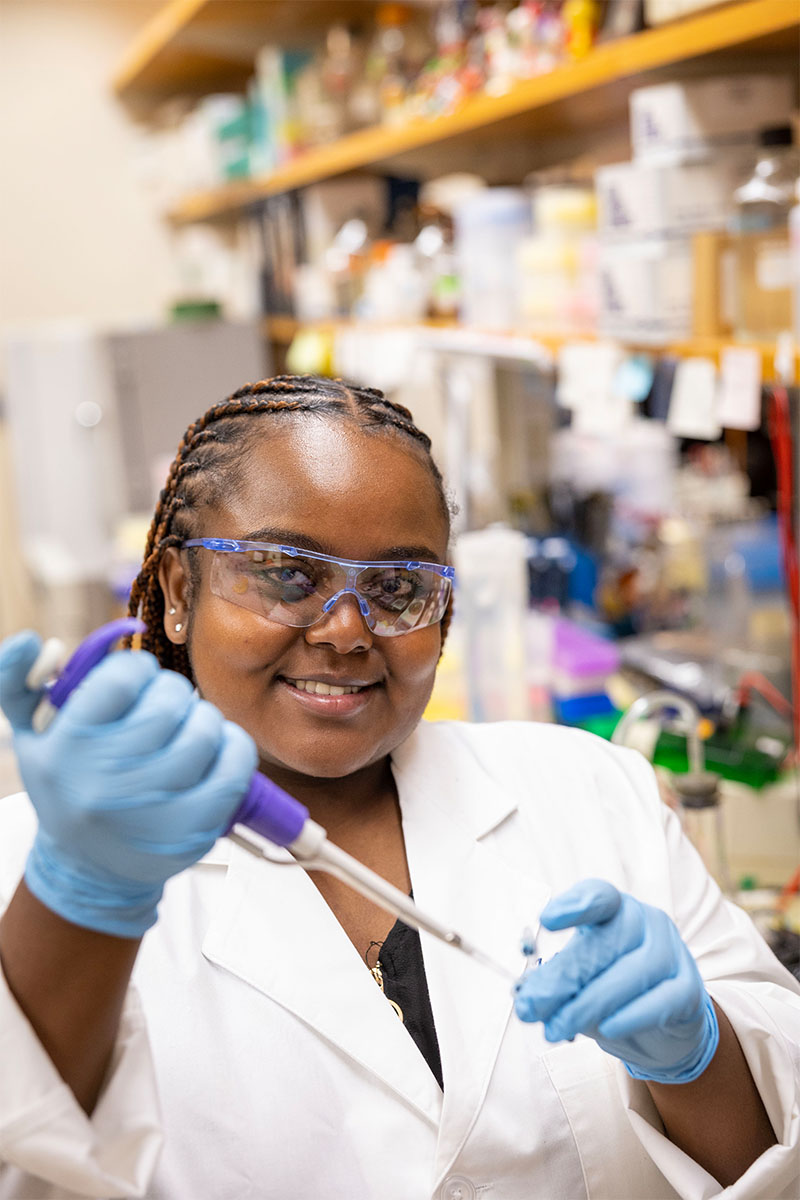 The National Institutes of Health has awarded Emory College of Arts and Sciences junior Hasset Nurelegne its prestigious undergraduate scholarship for 2022-23.
Nurelegne, a Silver Springs, Maryland, native who is pursuing a double major in English and neuroscience and behavioral biology (NBB), is one of just 12 recipients of the highly competitive award, which she has the option to renew next year.
The scholarship comes with up to $20,000 in annual tuition and education assistance as well as two paid summer internships at NIH laboratories. Nurelegne also will work full-time in NIH labs after graduation for two years, one for each year of scholarship support she receives.
The scholarship, and support from Emory and the QuestBridge Scholars program, will allow her to graduate debt-free. Nurelegne plans to pursue an MD/PhD after her NIH experience.
"I have a general love of science and research, so I am excited to be fully immersed in research," Nurelegne says. "I'm very grateful."
'Forging her own way'
She is also breaking ground. When NIH officials reached out to Nurelegne's mentor Anita Corbett  to ensure a smooth transition to their labs, they also asked about more potential Emory applicants.
"I give Hasset a lot of credit," says Corbett, Samuel C. Dobbs Professor of Biology and the College's senior associate dean for research.
"She is really forging her own way, and she's doing it in a way that supports other students," Corbett adds. "She has sought out ways to engage from day one and has been committed to every opportunity."
Nurelegne has been interested in science since high school, when AP courses in biology and psychology sparked her interest in neuroscience. An internship with the NIH's HiSTEP program during her final summer of high school drew her focus to research.
She credits her parents for her interest in science and determination to succeed. They moved from Ethiopia five years before she and her sister joined them in the U.S., building a foundation for a new life.
Her mother, Chaltu Woldemariam, would come home from her housekeeping job at the NIH, amazed at the scientific work happening there. She continued volunteering at the agency after becoming a certified phlebotomist, talking with Nurelegne about the NIH's role in projects such as Ebola treatments.
"They poured their whole life into me and my three siblings, and as the oldest, I'm the first one to show their sacrifice was worth it," Nurelegne says of her mother and father, Temesgen Tsegaye. "They've always supported me and are so amazed at how important science is to the world."
Within weeks on campus, Nurelegne joined Emory's
Initiative for Maximizing Student Development
(IMSD), an NIH-funded research and mentoring effort to help students underrepresented in the sciences prepare for top-flight doctoral biomedical and behavioral science programs.
Together with her experience with IMSD, Nurelegne began working on "Team Oncohistone" in Corbett's lab that spring, staying active even as research shifted online due to the pandemic.
Working on this collaborative project with Jennifer Spangle, an assistant professor of radiation oncology at the Emory School of Medicine, Nurelegne has focused on trying to understand how mutations in histone genes convert these critical proteins into oncohistones that drive cancer phenotypes.
She is a co-author of a 2022 paper on the research, using yeast models to identify the biological pathways that are altered in cells with oncohistones. She presented the findings at the Annual Biomedical Research Conference for Minoritized Scientists last fall.
While working on that project, Nurelegne completed a virtual College Summer Opportunities to Advance Research (CSOAR) internship with the NIH, working on a project to investigate GABA presence and function in the human ear.
She also spent a semester securing her second major and focusing on her critical analysis writing at Queen Mary University of London last spring.
"Neuroscience and English do connect, because of the critical thinking required for both and because of the need to clearly help people understand science," Nurelegne says.
Research that's close to home
Nurelegne has played a role in that work as a youth advisory board member for the Wellness: Ethiopian/Eritrean Youth Exploring Resilience and Awareness (Weyera) research study at the Rollins School of Public Health.
She had initially signed up to participate in the research into what young Ethiopians think about mental health and were experiencing in their lives. She joined the youth advisory board as the project expanded in the hopes of developing a pilot program for mental health support.
"Hasset takes initiative and is a delight to work with," says Tsedenia Tewodros, the senior public health associate on the project, which is led by Dr. Sophia Hussen at Rollins School of Public Health. "This is a topic and community that is very close to her heart."
For Nurelegne, who has been active in the Ethiopian-Eritrean Student Union and Black and Latinx in STEM (BLIS), that project and her interest in neuroscience are especially personal.
An aunt she lived with as a child in Ethiopia experienced behavioral changes from a still-unidentified health condition. It left her with first-hand experience of the suffering that stigma around mental illness and general unawareness of neurological disorders can create.
"She is doing better, but I still like learning about how the brain can affect so much of who we are," Nurelegne says. "I am interested in filling in that research gap, doing foundational research and working with patients, so I hope it becomes more clear how to do best do that (work) as I research at the NIH."
---