In October 2021, Emory's President Gregory L. Fenves signed onto the Second Nature Climate Commitment and the United Nations Race to Zero pledges, an outcome of meetings with Emory Climate Coalition student leaders working to raise awareness about climate change and the urgent need for action. By signing the pledges, Emory committed to additional climate action requirements that supplement those already adopted through Emory's Sustainability Vision and Strategic Plan, 2025. 
One year after the signings, Emory has made significant progress on its climate commitments requiring campuses to compile and publicly report an annual greenhouse gas emissions inventory; form a joint campus-community task force; create a resilience assessment and produce a climate action plan. To date, Emory has completed a greenhouse gas emissions inventory for fiscal year 2021 (FY21) and launched the Emory Climate Action Task Force to guide its climate action and resilience planning.  
Now, leadership is looking for more input from the Emory community. 
Perspectives and visions for Emory's climate action future
The Emory Climate Action Task Force — a diverse group of sustainability leaders representing Emory student organizations, faculty, staff, alumni and community members — will convene monthly through August 2023 to develop Emory's Climate Action Plan and Resilience Assessment.
Emory is committed to creating a climate action plan that inspires action at all levels; integrates equity in process and solutions; accounts for the latest science; and addresses Emory's unique assets, opportunities, history and context.
To achieve these goals, Emory will host "Community Conversations: Emory Talks Climate Action," a series of events to connect students, staff and faculty across Emory's Atlanta and Oxford College campuses to share climate action priorities and visions. The first two sessions took place during the fall semester and four more are planned for the spring. 
The first session for spring 2023 will be Wednesday, Jan. 25, at 11 a.m. in the Rita Ann Rollins Room of the Grace Crum Rollins Building. Other conversations will be Wednesday, March 1; Friday, March 24; and Thursday, April 6. 
Conversations will be hosted in various locations, formats and times to improve accessibility.
Community Conversations are organized by Emory's Office of Sustainability Initiatives (OSI) and will be facilitated by Ed Lee III, senior director of inclusivity for Emory College of Arts and Sciences. Lee is a fitting host thanks to his familiarity with Emory, his understanding of the intersections of equity and climate action, and his unmatched skills as a facilitator of complex conversations. 
"I was immediately drawn to the OSI's vision for the Community Conversations," Lee says. "They seek to create an engaging space that affirms the perspectives and ideas of those likely to be most impacted by climate change. I look forward to partnering with the office as Emory continues to move down the path toward a more sustainable future."
Building on an established foundation
The task force and Community Conversations sessions are building from a foundation of campus sustainability leadership. Those collective efforts have earned Emory the fourth spot among colleges in the U.S. for sustainability, according to the Princeton Review's 2023 List of Top Green Colleges. 
A few examples of the university's sustainability work include:  
In 2020, Emory signed a solar power agreement with Cherry Street Energy, which has installed more than 8,000 solar panels on rooftops and parking decks on the Druid Hills campus.

In 2019, a system of geothermal wells was installed under McDonough Field, providing roughly 700 tons of heating and cooling capacity to the

Leadership in Energy and Environmental Design (LEED)

Platinum Emory Student Center.

Emory has one of the largest inventories of LEED buildings in the Southeast, with

40 certified buildings totaling more than 4.25 million square feet

.

 

In 2015,

the award-winning water reclamation facility, WaterHub at Emory began cleaning campus sewer water on-site so that it can be used to heat and cool buildings and flush toilets on campus

 
Through Fenves' commitment to sustainability pledges, Emory has deepened its commitment to work toward its greenhouse gas emissions reduction goals of 45% by 2030 and net zero by 2050. Since the 2010 baseline year, Emory has lowered overall emissions in FY21 by 40.5% (including a 16.25% drop in overall emissions from 2019 to 2021). However, emissions in FY21 were impacted by COVID-19 protocols, making direct comparisons to previous years difficult. 
"Emory is a great example within the Climate Leadership Network of an institution ambitiously taking the lead to adhere to our climate commitment," says Blythe Coleman-Mumford, climate programs regional manager at Second Nature and Emory Climate Action Task Force member. "I look forward to continuing to support Emory in this commitment as one of only four institutions in Second Nature to take this step [of committing to both the emissions reduction and resilience assessment pledges]."
By joining the Community Conversations, every student, faculty and staff member at Emory can help determine the university's future and steer upcoming investments and innovations.
For more information about Emory's sustainability work, visit the Office of Sustainability Initiatives website.
Join a "Community Conversations: Emory Talks Climate Action" session to share climate action priorities and visions
Wednesday, Jan. 25, at 11 a.m.
Rita Ann Rollins Room of the Grace Crum Rollins Building
Wednesday, March 1, at 4:30 p.m.
Campus Services, Building B, Training Room B
Friday, March 24, at 10:30 a.m.
Virtual session (registration required)
Thursday, April 6, at 2 p.m.
Goizueta Foundation Center W525/W531
Learn more about the Community Conversations series.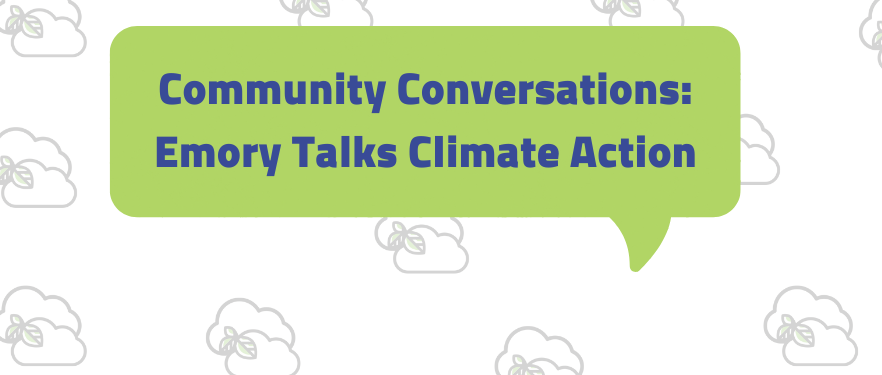 ---