For those who missed the world premiere of the documentary "I, Too" at The Carter Center on Sept. 8, 2022, it is another example of Carol Anderson, Charles Howard Candler Professor of African American Studies, doing what she does best — reminding us of painful chapters in American history and exhorting us to use that knowledge to create a more just future. But the film is also a foray into terrain that was foreign to her. 
Although Anderson has been interviewed for documentaries multiple times — including "All In: The Fight for Democracy" (2020) and "After Selma" (2019) — she had never built one from the ground up. The process with "I, Too" was painstaking yet exhilarating, and it marked a pivot point for a scholar far more comfortable writing award-winning books. These include "One Person, No Vote: How Voter Suppression Is Destroying Our Democracy" (2018), which was longlisted for the National Book Award, and "White Rage: The Unspoken Truth of Our Racial Divide" (2016), which was a National Book Critics Circle Award winner. Her latest book is "The Second: Race and Guns in a Fatally Unequal America" (2021). 
In the following Q&A, Anderson takes readers on the path from her initial skepticism about doing a documentary to discussion of what was achieved — and openness to revisiting the genre in the future.
What is the genesis for "I, Too"?
The film is about patriotism and who is fighting for democracy. The folks who stormed the Capitol on Jan. 6, 2021 had a very narrow vision of democracy. They were trying to wipe out 81 million votes. 
All the talk of the election being "stolen" centered on Atlanta, Milwaukee, Philadelphia and Detroit — cities with sizable Black populations. Those with that mindset were intentionally linking theft and criminality with urban areas. When I think about the Black citizens of this country, I see a group of people who have always fought for American democracy, even when it has not fought for them. So, my hope was to shine an honest light on this battle about American citizenship and democracy.
Who first brought the idea of a documentary to you?
It was Judith Goldstein, executive director of Humanity in Action, an NGO working for social justice. She said, "Your books are fabulous and you are getting the word out, but a documentary can be so powerful." Given that I was chairing African American studies and doing book tours, my answer was, "I am too busy." But Judith kept calling, and finally I came around to the idea that there are people who don't read books, who watch films instead. And I realized this was a way to reach another important audience. 
Describe the historical subject matter you touch on in the film.
The Hamburg Massacre of 1876. On July 4 of that year, about 40 members of the local all-Black unit of the state militia paraded down Main Street in Hamburg, South Carolina, to celebrate the centennial of America's independence. Two young white men in a horse-drawn buggy rode toward the troops and demanded to pass. After a short argument, the troops stepped out of the way. Four days later, more than 200 armed white men arrived in Hamburg with a former Confederate general demanding that the militia disarm. A standoff led to an all-out battle, which saw seven Black men murdered and several more wounded. 
As I describe in "The Second," President Ulysses S. Grant bemoaned the massacre and so many more like them during Reconstruction by saying that what South Carolina, Mississippi, Louisiana and other states had in common was not Christianity, not civilization, but the "right to kill Negroes" without facing any consequences. He was rocked by the savaging of the rule of law.
The Wilmington Coup of 1898. Wilmington had been living out a vision of a multiracial democracy that could work. Its citizens had abolished the poll tax and were concerned with quality public education for all children. That vision is what was so threatening to white supremacists.
On Nov. 10 of that year, a white mob, spurred on by an ambitious would-be politician, descended on the Black newspaper in Wilmington, North Carolina — The Daily Record — trashing the facilities and burning the building beyond repair. Then the mob started hunting and gunning down African Americans to terrorize the community. 
Seizing control of the racially mixed city government, unelected whites expelled Black aldermen and published a "White Declaration of Independence." Estimates of lives lost range between 60 and 250. The coup-makers faced no consequences for overthrowing a duly elected government. Instead, they laid the groundwork for disenfranchising legislation that led to no African American winning statewide elected office until 70 years later. 
The Ocoee Massacre of 1920. For years, the slaughter that happened on election night, Nov. 2, in Ocoee, Florida, was referred to as a "race riot," implying that the Black community caused the violence. The issue at stake was the right to vote. With the passage of the 19th Amendment granting women the vote, the NAACP began a statewide voter-registration drive, and the African American community responded enthusiastically. This angered white supremacists, including the Ku Klux Klan. Terror and intimidation of Black voters heightened at the polls. 
Black defiance and self-defense led to the lynching of Julius "July" Perry, one of the wealthiest African Americans in Ocoee, who had used his resources to pay the community's poll taxes. After Perry's murder, the looting and burning of Black people's homes and businesses began driving them out of the town. Going from being nearly half the population in 1920, by the 1930 census only two African Americans remained in Ocoee and there were none from 1940 to 1970. 
When you and your collaborators first sat down to sketch out what this film would be, what were you thinking?
I was remembering my father, a career military man who fought in WWII and Korea. Even though military service is so important, the way that Black folks have gone about patriotism is more than military service. It is the folks who stand in line for 12 hours to vote because they refuse to have democracy denied to them. It is the people on the Edmund Pettus Bridge, the people who dealt with the Klan coming. Black people have been determined to participate in this democracy as full citizens. That is powerful to me. That is what I wanted to show.
You and your brother both appear in the film, telling your stories. Was it uncomfortable for either of you to have such full roles on screen?

I am naturally shy. My happy space is to be off in the corner with a book. But I accepted the argument that my collaborators made to me, which was: "We have to know who you are; why are you telling us about these events?" 

My brother and I were ideologically different, but we both agreed on how amazing American democracy is. When I told him about this film — that it would be about patriotism and about who is fighting for democracy — he was ready to stand alongside me. He passed away unexpectedly recently, buried with full military honors following his service in Vietnam, and when I think about his presence in the film, it means so much.  
What was the biggest challenge for you while the film was in production?

 
The demands on my time. I would teach on Monday and Wednesday here at Emory and fly out on Thursday. We would film Friday, Saturday and Sunday and then I would fly back Sunday evening. The film was shot on location in Wilmington, North Carolina; Washington, D.C.; Ocoee, Florida; North Augusta, South Carolina; and Atlanta, Georgia. There was also the emotional toll it took to relive and retell these stories of hope, struggle, violence and death.
What are some of the things you learned about filmmaking?
I learned how long it takes to set up a shot and that getting it just right is so worth it. I was working with true professionals who would get up at 5:00 a.m. to do drone shots. I felt guilty appearing on set around 10 a.m. every day.
After The Carter Center premiere, the film was screened at Brandeis University, in Washington and at the Athens Democracy Forum in Greece. What have audiences taken from the film?

 
For white viewers especially, the reaction has been, "How is it that I am educated and have never heard of these stories, these atrocities?" Black viewers tend to know these stories or know of something similar that happened. Roger Cohen, the Paris bureau chief of the New York Times, interviewed me at the forum and, for him, the comparison was to apartheid; he was born in South Africa.
Atlanta is the starting and ending point for the film. That must feel appropriate given its role in the struggle for civil rights?
Yes. We started filming at the Decatur Book Festival in 2021 and finished in June 2022 at Emory. The film crew came into my class. I told students they did not have to appear on camera if they chose not to do so. That was not an issue. They were really excited about the film.
How did the film come to be named for the Langston Hughes poem "I, Too"?
My collaborators came up with different options as we were in production. For a while, none of them seemed quite right until the suggestion of the Hughes poem, which mirrors the tenor of the film itself. 
Will you make another documentary?

 
Let me put it this way: There are more stories to tell about democracy.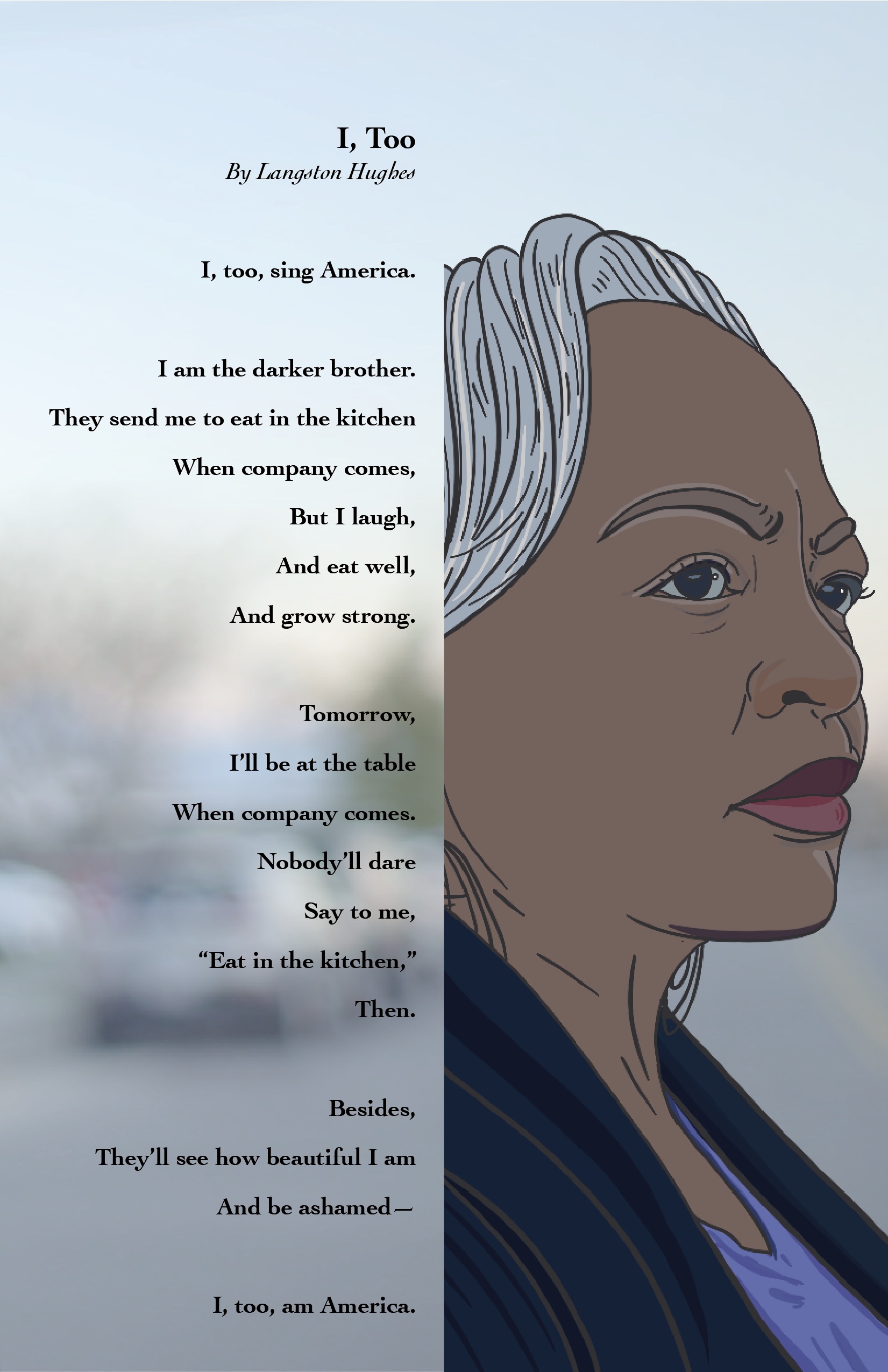 ---