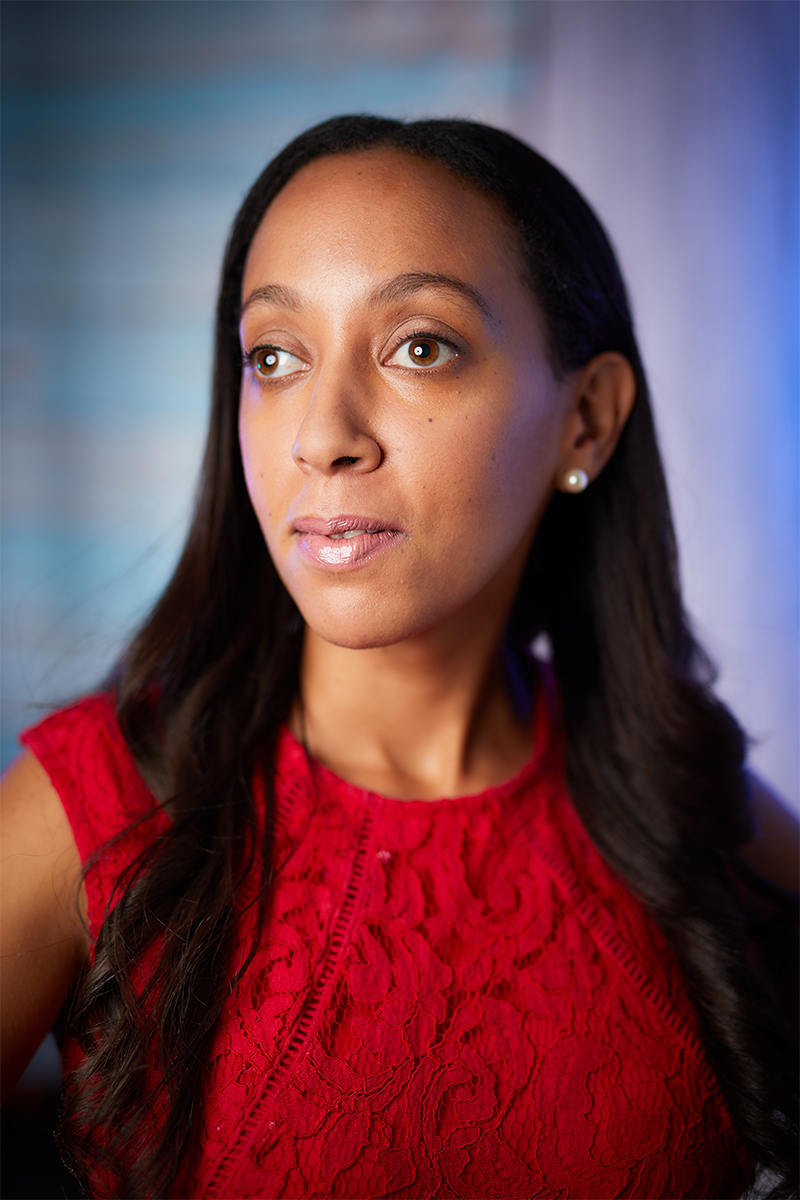 On March 17, Emory's Office of Diversity, Equity and Inclusion (DEI) and the Center for Women hosted the annual Women's History Month keynote. This year's speaker was Haben Girma, a disability rights advocate and the first Deafblind woman to graduate from Harvard Law School.
In 2013, Girma was recognized by President Barack Obama as a White House Champion of Change. Emory's DEI virtual book club is reading her autobiography, "Haben: The Deafblind Woman Who Conquered Harvard Law," with a discussion slated for April 29 at noon.
Ani B. Satz, a professor of law and public health at Emory, facilitated the virtual conversation with Girma. Satz teaches health law and disability law, among other courses. Much like Girma, Satz addresses disability accommodation and discrimination in health care and beyond.
"Her story is one about the value of diversity and inclusion and seeing human functioning on a spectrum," Satz said. "It's about the challenges societal and legal structures pose to that concept of human functioning on a spectrum. I deeply enjoyed her memoir, and one of the most important themes is how ableism is so deeply embedded in our society ... that well-intended people don't realize they're embracing ableist views."
Girma started her career as a fellow with the nonprofit Disability Rights Advocates and currently works as a speaker and consultant. Her Emory keynote focused on dismantling ableism — discrimination and social prejudice against people with disabilities based on the belief that typical abilities are superior, according to the nonprofit Access Living.
At the start of her remarks, Girma pointed out that she uses a braille computer to help her communicate. She also incorporated visual descriptions of herself, her environment, presentation slides and videos to demonstrate multisensory inclusivity. She said this is especially important for Deafblind people who are not white — Girma is a Black woman and the daughter of Eritrean and Ethiopian immigrants — because audio descriptions often default to whiteness.
"Sometimes, people argue that appearances shouldn't matter when talking about law," Girma said. "Throughout the last few decades, when blind people receive audio descriptions, physical descriptions are only provided when someone is nonwhite. Don't assume whiteness in audio descriptions; all of us have bodies, minds and hearts. [Considering diverse peoples in audio descriptions is important because it influences the inclusivity of]  the tech we build and the schools we create. It does matter."   
Throughout the discussion, Girma recounted instances from her life where ableism slowed her aspirations and how she found the tenacity to keep going.
She recalled going to Lewis & Clark College in Portland, Oregon, and the cafeteria manager refusing to create braille menus. After doing some research, she told the manager that the Americans with Disabilities Act bans schools from denying students with disabilities necessary accommodations. The employee apologized and emailed Girma braille menus daily. The following year, as a result of her efforts in her own case, a blind man started at Lewis & Clark and immediately had access to braille menus. This incident sparked her interest in law.
"It taught me that when I advocate, I make it easier for others after me," Girma said. "We are all interdependent. Many of you enjoy drinking coffee, but very few of you grow your own coffee beans."
Girma also shared an instance from her time at Harvard Law. During a networking night, many of the attorneys in the room would not engage with her. One man whom she invited for a conversation only spoke to the interpreter, even commenting on her beautiful German shepherd.
"It all goes back to fear of someone bringing up discomfort and uncertainties in us," Girma said. "Rather than learning to sit with that discomfort, a lot of people choose to shy away and avoid it. If we learn to address our fears, we learn to address ableism, sexism and racism."
Girma, who graduated from Harvard Law in 2013, noted that it was a special honor because Harvard had denied admission to Helen Keller decades before on the basis of gender. It was also another full-circle moment when she received a 2018 Helen Keller Achievement Award from the American Foundation for the Blind.
After delivering remarks, Girma took questions from attendees.
Nikki Warren, a student at Rollins School of Public Health, asked, "How do you keep yourself from feeling discouraged?"  Girma responded with a laugh, "Coffee cookie ice cream, going on a walk and connecting with friends. It's important to find out what brings you joy and find ways to do those things. Once you recharge, you can remove the barriers."
Karen Effinger, an assistant professor in the Department of Pediatrics in the School of Medicine, asked, "What are the biggest barriers you've found in health care?"
Girma replied, "I'm not even sure where to begin. At the eye doctor, I'm still being handed copies of paper I can't read and not offered an accessible email or a braille version.... It makes [disabled people] feel like the care system doesn't actually care about our lives."
As an attorney and disabled person, Girma's ultimate goal is to see people living with disabilities live the lives they want without being isolated and underestimated. Girma loves to go salsa dancing and spend time in nature — both things ableism suggests she can't do.
She concluded by encouraging attendees to pick a barrier in their community and put action behind removing that barrier. For example, at Emory, she recommended that each student organization have guidelines on how to host fully accessible events.
"I didn't need to conquer my disability; I needed to conquer Harvard," Girma said.
---