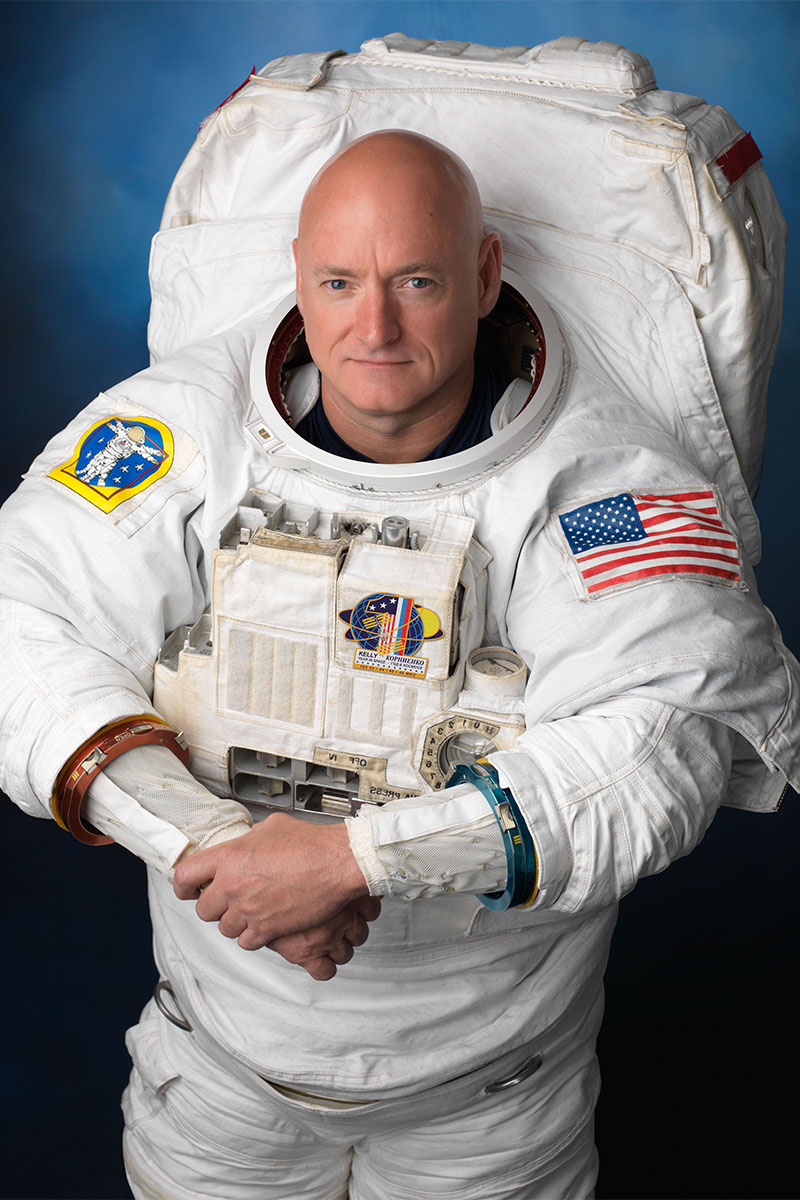 Former NASA astronaut and retired U.S. Navy Capt. Scott Kelly has been named keynote speaker for Emory University's Class Day Crossover, an event for students receiving bachelor's degrees at this year's Commencement. This year's event will be Thursday, May 5.
The evening will include a student reception, inspiring remarks from Kelly and Emory leaders, senior awards — including the presentation of the Boisfeuillet Jones Medals — the beloved Candlelight Crossover tradition and a party with the class' final Coke toast as Emory undergraduates.
"After two years of turmoil due to the pandemic, we felt it was important to recognize the senior class's resilience when finishing their time at Emory," says Rhea Kumar, a senior in Goizueta Business School majoring in business administration who plans to attend medical school. "Similarly, Captain Scott Kelly overcame the uncertainty of traveling in space on a year-long mission with resilience and determination. We believe his focus on the importance of leadership and teamwork when facing adversity will strongly resonate with the Class of 2022. We also thought Capt. Kelly's perspective on pushing one's own limits and boundaries in order to reach greatness is fitting as we move to the next chapters of our lives."
Kelly's career included time as a U.S. Navy fighter pilot, a test pilot and astronaut. He participated in four missions to space, including serving as pilot for an emergency repair mission to the Hubble Space telescope in 1999 and two stays aboard the International Space Station as commander.
He was the first American astronaut to complete a "year in space" mission — 340 days in 2015. Kelly has much wisdom to share with the Class of 2022 before they embark on their own journeys, just as previous Class Day speakers have (including Jon Ossoff, Stacey Abrams, Chelsea Handler, Adam Richman, Kenneth Cole, Mia Farrow, Peyton Manning, Ben & Jerry and others).
Class Day Crossover celebration
Another highlight of the evening  will be the Candlelight Crossover, a tradition symbolizing undergraduate Emory students officially "crossing over" from student to alumni status.
Input from students, alumni, staff and others helped reshape Class Day Crossover for 2022.
"In the past, Class Day Crossover activities took place in disparate locations around campus," says Carol So, executive director of alumni and constituent engagement programs. "Increased participation meant we were outgrowing some of these spaces and the experience was less streamlined for students. The opening of Emory's Student Center and feedback from students and alumni provided an opportunity to transition activities to the heart of campus and the student experience, areas that also may evoke more nostalgia and memories for our graduates."
A reimagined Crossover was originally planned for 2020. A delay due to the pandemic means it will be introduced on the 20th anniversary of Class Day instead. Members of the Classes of 2020 and 2021 are invited to attend as alumni since they were unable to gather in person for their own Crossovers.
One goal of the revamped celebration is to allow more seniors and members of the broader Emory community to participate.
Graduating undergraduate students will cross as a group from the Emory Student Center to McDonough Field for a party in their honor with a DJ, free food, photos and giveaways. Students can also learn about alumni resources and how to stay connected with the Emory community regardless of their path after graduation.
In hopes of rallying the greater Emory community around this renewed senior tradition, Emory alumni, faculty, staff and trustees also are invited to a special pre-Crossover Reception, and to cheer on the graduates during the Candlelight Crossover. This group will then join the party on McDonough Field for a final Coke toast to the graduates.
"We want to show our students that the Emory family is uniting to celebrate them and their accomplishments and that we're ready to support them as they begin their next chapter as Emory alumni," So says. "As we like to say, once Emory, #alwaysemory."
Thursday, May 5, 6:30-11 p.m.
Event starts at the Emory Student Center (Dobbs Common Table) and ends at the McDonough Field party
Register through The Hub by Monday, May 2
Open to all graduating undergraduate students; students can check in at activities with Corq app for admission and wristband (ID/21+ for alcohol); students can vote for the DJ in the registration form; see the Class Day Crossover webpage for more details.
Thursday, May, 5, 7-9 p.m.
Event starts at the Emory Student Center Plaza, ends at the McDonough Field party 
Register here by Monday, May 2
Open to Emory alumni, faculty, staff and trustees. Enjoy a special pre-Crossover reception (free wine, beer, and appetizers) before gathering to cheer on the seniors during their Crossover procession. Then participate in the Class of 2022's final Coke toast on McDonough Field.
Commencement activities
Emory's 177th Commencement events are scheduled for May 6-9. Georgia-based entertainment entrepreneur, visionary and creative force Tyler Perry will serve as keynote speaker for the Emory University Commencement Ceremony, scheduled for Monday, May 9, at 8:30 a.m. on the Emory Quadrangle.
The Emory University Commencement Ceremony is a ticketed event for 2022 graduates and their guests. The ceremony will be livestreamed for the entire Emory community.
Learn more at Emory's Commencement website.
---