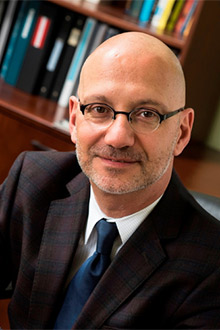 The National Organization for Rare Disorders (NORD) has named Emory's Division of Medical Genetics in the Department of Human Genetics, in partnership with the Emory Clinic and Children's Healthcare of Atlanta, as a NORD Rare Disease Center of Excellence.
Emory joins a group of 31 medical centers nationwide as part of an innovative network aimed at expanding access and advance care and enhance research for rare disease patients in the United States. The goals of NORD's program are to foster knowledge sharing between experts across the country, connect patients to appropriate specialists regardless of disease or geography, and to improve the pace of progress in rare disease diagnosis, treatment and research.
"We are delighted that NORD has recognized our team's commitment to patients and their families with rare disease," says Michael J. Gambello, MD, PhD, Section Chief and Vice Chair of the Department of Human Genetics at Emory University School of Medicine, and pediatric medical genetics physician with Children's Healthcare of Atlanta.
"We have an exceptionally dedicated group of geneticists, genetic counselors, metabolic dietitians and support staff," Gambello adds. "We look forward to working with NORD and the other centers of excellence of behalf of the extended rare disease community."
People living with rare diseases frequently face many challenges in finding a diagnosis and quality clinical care. The average rare disease diagnosis can take several years and require many tests and visits to specialists. There are over 7,000 rare diseases – most of them with a genetic origin -- and 25-30 million Americans are estimated to be currently living with rare diseases. According to the National Institutes of Health, any disease that affects fewer than 200,000 people in the US is considered rare. More than 90 percent of rare diseases lack an FDA-approved treatment.
Examples of rare diseases covered by clinicians at Emory's Division of Medical Genetics and Children's Healthcare of Atlanta include:
Fragile X syndrome, the most common inherited cause of intellectual disability
Metabolic disorders, such as phenylketonuria and galactosemia
Leukodystrophies, which involve inherited alterations in the composition of myelin, compromising nervous system function
Lysosome storage disorders such as Gaucher disease, Fabry disease and Pompe disease, which involve deficiencies in enzymes that break down substances in the body
Neuromuscular disorders, such as spinal muscular atrophy and myotonic dystrophy
Skeletal disorders, such as achondroplasia or osteogenesis imperfecta 
Within the Department, researchers have some specialty areas, such as fragile X syndrome and lysosomal storage disorders, but clinicians have broad experience with many rare diseases. The Department is also responsible for follow-up after newborn screening for metabolic diseases within the state of Georgia, and hosts a Genetic Counseling training program.
In addition, Emory researchers have helped and counseled families who learn that a child has a previously unrecognized genetic disorder, such as NGLY1 deficiency or one of the family of GRIN disorders.
The Department of Human Genetics has established a Genetic Clinical Trials Center, aimed at treatments for inherited disorders, an area that has expanded greatly in the last 20 years. These include gene therapies and enzyme replacement therapies, as well as targeted drugs. Currently, 22 industry-sponsored clinical trials are underway, along with 18 investigator-initiated research studies and 9 disease registries.
Several clinical trials are testing the first therapies available for a specific condition, notes Dawn Laney, MS, CGC, CCRC, director of the Genetic Clinical Trials Center and assistant professor of human genetics. Some examples are an ongoing study of the medication vosoritide, which enhances bone growth in children with achondroplasia, and another study of trofinetide for girls and adolescent females with Rett syndrome. 
"Right now, far too many rare diseases are without an established standard of care. The Centers for Excellence program will help set that standard – for patients, clinicians, and medical centers alike," said Ed Neilan, Chief Scientific and Medical Officer of NORD. "We are proud to announce the Emory Division of Medical Genetics as a NORD Rare Disease Center of Excellence and look forward to their many further contributions as we collectively seek to improve health equity, care, and research to support all individuals with rare diseases." 
More about the National Organization of Rare Diseases and its Centers of Excellence program are available here.
---