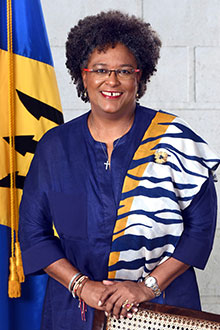 Emory Climate Talks and the Latin American and Caribbean Studies program at Emory University are honored to welcome Prime Minister of Barbados Mia Mottley on Thursday, Dec. 2, at 4 p.m. (EST) for the final conversation in the Emory Climate Talks 2021 series. Register here for the online conversation.
Mottley has emerged as the most vocal and most determined advocate for urgent action with regards to climate change among political leaders of the Global South. Her recent speech at the Glasgow COP26 event galvanized the international community as she laid down concrete proposals for immediate international intervention.
Mottley's pathbreaking role as a climate change activist is emblematic of her entire career, capped by election as the island's first female political leader in 2019. Later this month, the Mottley government will mark a symbolic break with Barbados' colonial past by proclaiming the island a republic, ending the role of Britain's Queen Elizabeth as head of state. 
Mottley's willingness to engage with the Emory campus via Emory Climate Talks, the student-centered initiative, enhances opportunities for undergraduate and graduate students to become agents of change in the climate change movement.
---