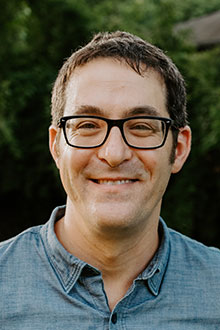 Samuel Sober, named a Winship Distinguished Professor of Biology in Emory College of Arts and Sciences on Sept. 1, received a national mentorship award this summer.
Sober was honored with a 2021 Landis Award for Outstanding Mentorship from the National Institute of Neurological Disorders and Stroke (NINDS) of the National Institutes of Health (NIH). The NIH honors up to five recipients each year for their extraordinary mentorship and training in neuroscience research.
For Sober, the significance is not the prestige or $100,000 that comes with the award. It's that the nominations are accepted only from current and former trainees who personally attest to the guidance and support they've received.
"It means more to me than any other award I've ever gotten," Sober says. "Creating a good environment for people to learn to become better neuroscientists and a culture of helping each other learn is very important to me."
Sober's research into how the brain controls muscle movement has long been a collaborative effort. His lab developed technology for recording and analyzing how precise neural activity controls vocal behavior in Bengalese finches.
That work sparked the creation of an Emory-led international consortium studying the mechanisms of motor control. The research, funded with a $3.9 million grant from the Simons Foundation, could eventually help people with neural systems injuries such as strokes.
While leading that effort, Sober also created training modules on Title IX and sexual harassment for use in several PhD programs at Emory, showing his commitment to recruiting and retaining diverse voices, says Amanda Jacob, the operations manager for the Simons-Emory International Consortium.
"He lives his values," says Jacob, who also is an associate scientist in the Department of Biology. "When I got pregnant, Sam was accommodating but also continued to give me professional opportunities that advanced my career. Sam is just truly a good person who cares about his lab members and that shows in every decision he makes."
One of Sober's first undergraduate researchers, MacKenzie Wyatt, arrived as a first-generation student from a small town, with no research experience.
Wyatt says he helped her build her knowledge from the ground up, sharing papers and making time to discuss how to interpret the research before teaching her how to think about applying what she was learning.
Wyatt graduated with honors in 2016. Her neuroscience and behavioral biology thesis with Sober, showing how changes in auditory feedback affect how finches learn to sing, was published in eNeuro in 2017, when she was in her first year at University of Kentucky College of Medicine.
She has continued research during medical school and now as a second-year pediatrics resident physician at Vanderbilt University Medical Center. Her latest research looks for markers in pulmonary function tests in cystic fibrosis patients, which has the potential to change interventions that improve life spans.
"It's a testament to Sam that I am where I am," Wyatt says. "He meets you where you are, then pushes you to what you can become."
Sober expects to find more mentees as he continues his research. He and collaborators are in the process of fabricating 1,000 of their electrode devices to be shipped to 100 neuroscience labs around this world.
This first-of-its-kind collaborative electrode workshop is supported by donations from private philanthropies — in addition to the Simons Foundation, the Kavli, Azrieli and Novo Nordisk foundations also have donated — and from Emory and the Neural Engineering Center at Emory and Georgia Tech.
Together with the research support provided by the Landis Award, the electrode workshop will create further opportunities for Sober to establish collaborations with a global network of neuroscientists and to create mentorship opportunities within his lab.
"By approaching every research project as a partnership, it allows for a lot of intensive training and guidance," Sober says. "In my lab the expectation is, as you learn, you pay that back by giving a lot of help to the next person."
"I think it's been a really successful strategy for our research program, and it's exciting to bring this approach to the large-scale projects my group is leading," Sober adds. "We get much farther scientifically when we collaborate rather than compete."
---