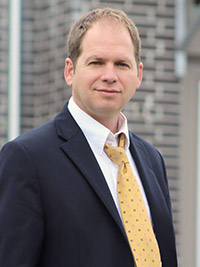 Mikle South, PhD, will be joining the Emory University School of Medicine and Emory Brain Health Center as director of the Emory Autism Center, effective Sept. 1. South comes to Emory from Brigham Young University where he served as professor of psychology and neuroscience.
"We are thrilled to welcome Dr. South to help lead our talented team of professionals at the Emory Autism Center," says Bill McDonald, PhD, interim chair of Emory's department of psychiatry and behavioral sciences."We expect to only become stronger and better at serving the needs of our patients and families with unique challenges under his direction."   
South received a BA in psychology from Yale University in 1994 followed by a PhD in child clinical psychology at the University of Utah in 2005. He returned to Yale for postdoctoral training in developmental neuroimaging.
"I am honored to become part of the Emory team to make a difference in the lives of individuals with autism and their families," says South. "I look forward to contributing to the Center's long history of outstanding clinical care and continuing my research efforts to better understand autism and related differences."
South's research has focused on better understanding the interaction of anxiety and autism in brain and behavior, including recent studies of how sleep affects autism, as well as risk factors for suicidal thoughts and behaviors in young adults.
He has published numerous peer-reviewed scientific papers and review articles in books and journals including Journal of Child Psychology and Psychiatry, Autism, Journal of Autism and Developmental Disorders, and Molecular Autism.
The Emory Autism Center is part of the Department of Psychiatry and Behavioral Sciences at the Emory University School of Medicine and the Emory Brain Health Center. It was established in 1991 as a public, private and University collaboration and provides clinical, educational and medical support to individuals with autism (ages 15 months through adulthood). It also offers instructive guidance for family members, training for educators and professionals and learning experiences for those in the community.
---