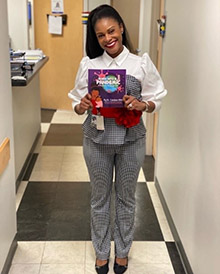 Candace White, DO is a board-certified primary care physician, public health leader and patient advocate who serves the greater Atlanta, Georgia area. She works on the frontline to serve her community and patients alike. Her mission is to improve her patient's quality of life through continuity of care, education and empowerment. She worked throughout her entire pregnancy, enduring multiple COVID-19 exposures, unknowingly at the time. She remained COVID-19 free and delivered a healthy baby girl at the height of the pandemic on April 10, 2020.
While expecting in unprecedented times, Dr. White wrote the children's book "Born into a Pandemic, A Mother's Precious Gift." It is the beautiful story of an expectant mother protecting her unborn child during COVID-19 with an uncertain future. It chronicles what was going on in our society and how life changed for all during the pandemic. It captures the fears of pregnancy, bittersweet memories of not being able to share joy with family and friends in person, relief at delivering a healthy baby, and faith for a peaceful future.
The book is dedicated to expectant mothers and mothers who gave birth during the COVID-19 pandemic. It also recognizes all the women, men and children in the world who celebrated the arrival of new life during this past year.
Dr. White has been recognized by ESSENCE magazine as an Essential Hero and was awarded the Amazing Grace Award for her service. She is now fully vaccinated with the COVID-19 vaccine. She also participated in our Emory Healthcare hesitancy campaign expressing vaccine importance. Her video can be
viewed online
.
She and colleague Itauma Udosen, DO see patients at Emory at Miller Grove Primary Care. Both are Doctors of Osteopathic Medicine and use the whole-person approach to care. Dr. White explains that her method of care always starts with an evidence-based approach. She believes that listening to a patient and having them define exactly what's going on is very important for the primary care process. "I encourage my patients to assist me in devising a care plan. I may end up modifying the care plan based on the patient's needs, concerns, or what they feel best suits them along with my medical advice," Dr. White says.
Dr. Udosen feels an essential part of patient care is making sure she has a good rapport with patients. She explains that patients who have hesitancy with their providers may not be as forthcoming with information that could prove important to their care. Patient-physician relationships can grow and flourish at Emory at Miller Grove because "once a patient is established with a physician, they stick with that physician, " Dr. Udosen added.
Drs. White and Udosen stand behind the current vaccination efforts. In addressing vaccine fears, Dr. White conveys, "We have lost over almost 600,000 Americans to this dreadful virus, so it's truly a public health crisis. About 40% of those individuals have been from black and brown communities." She says it's important for patients to take the opportunity and listen to what science is telling them so we can help stop the spread of COVID-19 and help prevent more deaths. "Trust your leaders that look like you as well as those that have been fully vaccinated. I would never advise someone to do anything that I would not do for myself, and I have been fully vaccinated since early January," Dr. White says.
Dr. Udosen further explains, "We, as healthcare individuals, are learning more and more about the COVID-19 vaccine each day. I reassure patients that the research that has been done in general, over the past decade, about manufacturing vaccines is second to none."
---