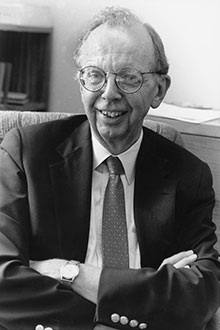 With the passing of the internationally respected theological ethicist and emeritus faculty member James M. Gustafson on Jan. 15, the world lost "a towering scholar," says former Emory President James T. Laney, who led the university's efforts to recruit him in the late 1980s. Gustafson came to Emory to lead the Luce Seminars, groundbreaking interdisciplinary seminars that not only had a lasting impact on Emory faculty but became a model for other universities. 
A native of Michigan, Gustafson was the son of a minister. After receiving a BS from Northwestern University and a BD from Chicago Theological Seminary, he was ordained in the United Church of Christ in 1951 and served as a pastor in Northford, Connecticut, while pursuing doctoral studies at Yale University. 
During Laney's own doctoral studies at Yale, Gustafson served as his chair, and Laney followed his mentor's career as he rose to prominence at Yale Divinity School and the university's Department of Religious Studies (1955–1972), then later served at the University of Chicago Divinity School and as a university professor (1972–1988).
Scholarly roots and influences
Gustafson drew from renowned theologians while emerging as one in his own right. H. Richard Niebuhr, one of the most significant theological ethicists of the past century, was a major influence. Niebuhr had been his professor, and the two worked together on a Carnegie Foundation study of Protestant theological education in America.
According to E. Brooks Holifield, Charles Howard Candler Professor Emeritus of American Church History at Emory's Candler School of Theology, Gustafson extended Niebuhr's work in the course of his 43-year career. "Both men," he notes, "could say deep and important things in simple ways."
Like Laney, Holifield was a student of Gustafson at Yale and remembers his lectures as vibrant and thought-provoking, among the best he received. "He did not," says Holifield, "hand us answers; he guided us to see situations, to embrace a way of thinking." He kept notes from Gustafson's classes for years because they were "a new means of considering what theology meant."
Holifield and his fellow students were aware of Gustafson's service in World War II; from 1944 to 1946, he served with the U.S. Army Corps of Engineers in Burma and India. In those places, says Holifield, he "saw terrible things, coming away with a deep sense of realism about humanity."
Gustafson was interested in how the church could be a site of ethical reflection. To him, religion too often placed God in service to humankind's values and desires. He considered the word "God," recalls Holifield, symbolic language "representative of the powers bearing down on the world and sustaining it." 
Gustafson insisted that theology take into account the natural sciences, believing that the war of religion against science was based on misunderstanding. He felt that religion points to the same realities as natural science, but each construes those realities differently.
Gustafson's writing hit a high mark with publication of the two-volume "Ethics from a Theocentric Perspective" (1981–1982), which not only set out his system but also proved a useful tool for examining any ethical system, theological or nontheological. A key aspect of his legacy was his profound influence on a host of scholars having no direct connection to religion or ethics.
Establishment of the Luce Seminars
At the time of recruiting Gustafson to Emory, then-President Laney was exploring the question: What is education really for? "Of course, it is about training and professional skills," Laney says. "However, we were also interested in creating a synergistic quality, an interdisciplinary aspect, in the hopes of answering what education is truly for in the best sense. I knew that Jim would contribute much to these discussions." 
With the financial support of the Henry Luce Foundation, Gustafson came to Emory in 1988 as the Henry R. Luce Professor of Humanities and Comparative Studies. For the first five years of his tenure, Gustafson presided over the Luce Seminars. Reflecting intensive investments of time and effort, each seminar ran for six months and involved as many as a dozen faculty from across the university. They were "the first of their kind in the nation and won him lasting appreciation," says Laney. 
Jon P. Gunnemann, professor emeritus of social ethics, recalls having the new Luce Professor sitting outside his door waiting for him. Says Gunnemann, "The encounter was a discomfiting reversal of roles since, some 20 years earlier, I had sat outside his office at Yale as his student. We talked at length about the interdisciplinary faculty seminar he was planning, one that would involve genuine engagement between and among the research areas of the university, a realization of the demands of his theology, which required seriously engaging all human disciplines of intellectual inquiry."
Gustafson called one seminar "Human Being/Being Human." Laney points to the skillful tension in that title, saying: "You can see the challenging dynamic he set up in that 'human being' is descriptive and objective, while 'being human' is something far more elusive and aspirational."
To Ted A. Smith, professor of preaching and ethics at Candler, Gustafson's career has two halves: his scholarship before Emory and the work he did after arriving. By Smith's analysis, in the earlier part of his career, Gustafson "did more than anyone else to form a whole generation of scholars who shaped the field of religious ethics in the last three decades of the 20th century." Once here, "having defined a discipline, he now transcended it, bringing all of Emory together around questions of common concern and demonstrating that we have shared (even if endlessly contested) moral purposes."
Helping define what education is truly for
When Gustafson retired in 1998, then known as the Robert W. Woodruff Professor of Comparative Studies and of Religion, the seminar was named in his honor. Says Gunnemann, "Faculty across the disciplines reported that the Luce Seminar changed the way they thought and in some cases changed their lives. Just as Jim's graduate students from Yale and Chicago are scattered across all the universities of the country, his faculty 'grads' have populated and influenced all fields of study at Emory. Courses based on his Luce Seminar are still taught in Emory's Emeritus College." Moreover, as Laney and then-Provost Billy Frye held conversations among faculty that led to the creation of the Emory Ethics Center in 1990, the readiness and enthusiasm for the center was stimulated in part by the seminars Gustafson led. 
For those seeking a deeper dive into an unparalleled career, Pitts Theology Library  holds Gustafson's papers, representing the period 1948 to 2004. Gustafson authored 12 books, coauthored and edited several more, and published scores of journal articles. He was twice a Guggenheim Fellow, was a Fellow of the American Academy of Arts and Sciences and received more than 10 honorary degrees. He received the Lifetime Achievement Award for "creative and lasting contributions to the field of Christian ethics" in 2011 at the annual meeting of the Society of Christian Ethics.
Though he had a gruff exterior, according to Holifield, Gustafson was always willing to spend time with people. Holifield relished lunches with him, recalling, "Talking with him was like being in a seminar. He loved the intellectual life and wanted others to love it as well."
---