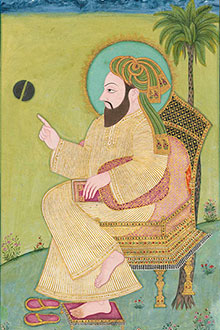 The newest exhibition at the Michael C. Carlos Museum, "Wondrous Worlds: Art and Islam Through Time and Place," explores the long history, vast geographic expanse and remarkable diversity of works of art in the Islamic world.
Although the museum is currently open only to Emory faculty, students and staff because of the pandemic, numerous programs related to the exhibit will be offered on Zoom.
The exhibit, which runs from Jan. 26 until May 9, is organized by and drawn from the collections of the Newark Museum of Art. It features more than 100 works in nearly all media, including carpets, costumes, jewelry, ceramics, glassware, metalworks, prints, paintings and photographs.
Contemporary works from artists Rachid Koraïchi and Victor Ekpuk and calligrapher Hassan Massoudy are shown alongside works from as early as the ninth century. Highlights of the exhibition include dazzling lusterware from Iran and Spain, delicate prayer rugs from Turkey and India, a majestic pair of early-20th-century Egyptian applique tent hangings and "Harem #1" by the Moroccan-American photographer Lalla Essaydi.
"Wondrous Worlds" opens with an introduction to the Five Pillars of Islam (Declaration of Faith, Daily Prayers, Charity, Fasting for Ramadan and the Hajj) to provide context and a distinctive view into the function, artistry and cultural histories of the objects.
The exhibition then expands upon five themes:
Internationalisms: Now and Then highlights the long history of intercontinental trade and the role the Hajj pilgrimage plays in promoting international interconnections. The trade of Turkish textiles to Morocco; English and Dutch textiles inspired by Indonesian prints that were exported to Africa; and ceramics traded among China, Iran and Turkey are all featured in this section.
Elegant Epigraphy: Writing as Art delves into the power of the written word, not only through the holy text of Islam but also through histories and poetry written in a variety of scripts representing a diversity of languages including Arabic, Farsi, Nsibidi, Turkish and Urdu.
Hospitality: Fasting, Feasting and Fun celebrates the domestic arts. An installation of a setting for a Moroccan feast features a Rabat carpet, leather cushions, a wooden screen and ornate metal table settings. Glorious ceramics, paintings and musical instruments from other regions are also highlighted.
Modest Beauty: Dress, Fashion and Faith positions silk, velvet and sequined costumes alongside ornate jewelry fashioned from diamonds, pearls, emeralds, jade, gold and silver.
Architecture and Its Offspring highlights architectural legacies displayed in carpets, printed textiles, furniture, tile-works and contemporary sculpture.
Related programs offered via Zoom will touch on Islamic cuisine, design and landscape architecture and the use of water.
Anissa Helou, author of "Feast: Food of the Islamic World," winner of the James Beard Foundation's Best International Cookbook Award, will join the Carlos Museum for a conservation and cooking demonstration. Eric Broug, founder of the School of Islamic Design in London, will deliver a lecture and workshop on Islamic design principles. In one series of lectures, three scholars — Maria Carrión of Emory University, James Wetcoat of the Massachusetts Institute of Technology (emeritus) and D. Fairchild Ruggles of the University of Illinois at Urbana-Champaign — will address the interplay of water, Islam, architecture and gardens.
"Wondrous Worlds: Art and Islam Through Time and Place" was organized by the Newark Museum of Art. In Atlanta, the exhibition has been made possible through generous support from the E. Rhodes and Leona B. Carpenter Foundation, Mar-Jac Poultry, Inc. and the Ismaili Council for the Southeastern United States, and with special assistance from Abbas Barzegar.
Learn more about the exhibition here.
---