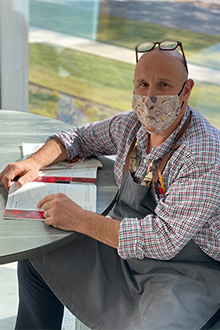 Mike Bacha, executive chef at Emory University Hospital, has long been a passionate advocate for incorporating more healthy, sustainable, cooked-from-scratch meals on hospital menus. He also enjoys helping others learn how to cook healthier for themselves.
Now people beyond the Emory community can enjoy a sample of Bacha's cooking: the recipe for his minestrone soup is part of the new Full Plate Living Healthy Holiday Cookbook. Senior research protocol analyst Jessica Goldman also has a recipe in the book for kale superfood salad.
Goldman participated in the pilot of Emory Healthy Kitchen Collaborative (EHKC) in 2019. During the program, Emory employees learned hands-on, foundational cooking skills from Bacha that included creating their own dressings and soups, preparing beans and grains, becoming savvy about spices and more. They also practiced skills in yoga and mindfulness, exercise and resiliency.
The work of EHKC was supported by a grant from Ardmore Institute of Health (AIH), a faith-based nonprofit organization with a mission to "improve the health and vitality of people to live more meaningful lives."
AIH releases the cookbook each year based on submissions from many grantees they support. The cookbook is filled with recipes that emphasize plant-based foods — such as Bacha's and Goldman's — and tips for making better food choices.
To celebrate being part of the cookbook, Bacha is adding the minestrone to the rotation at Clifton Café during the holiday season. Stop by the café in Emory University Hospital Tower to try it for yourself or download the cookbook for free and make it (and Goldman's salad) at home.
"The recipe has been on the inpatient menu for about eight years," says Bacha. "We made just a few modifications, but it is still the same combination of greens, beans, veggies and herbs infused with flavor and love."
"EHKC was, by far, the best experience I have had at Emory," Goldman says. "I learned a lot of fascinating information from leading experts in the health and wellness field, as well as met really nice, supportive individuals. We were able to spend time in the kitchen and learned great new recipes. I am so thankful that AIH sponsored this program and hope it can be expanded and offered to more people in the future. I was so honored to hear that my kale superfood salad was featured in their cookbook."
EHKC is offered through Emory Lifestyle Medicine and Wellness. A virtual teaching kitchen program is being planned for 2021. Visit their website for more information on all programs and to watch for details on the 2021 session.
---