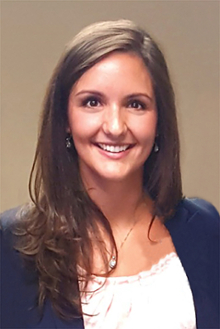 Modern Healthcare has selected Hannah Henry, MBA, Emory Johns Creek Hospital (EJCH) Vice President of Operations, as an honoree in its "Top 25 Emerging Leaders" list.
The 2020 list recognizes the most impressive rising stars in the health care industry who have made significant contributions in the area of health care administration, management or policy. The publication chose the recipients based on actions they've taken during the COVID-19 pandemic to help their organization achieve or exceed financial, operational and clinical goals.
"During the COVID-19 pandemic, Hannah has served as an exceptional chairperson for Emory Healthcare's clinical operations group which impacts operations for more than 26,000 physicians, nurses, staff and employees," says Bryce Gartland, MD, Emory Healthcare Hospital Group President.
The young executives recognized in the list also demonstrate the ability to contribute to a culture of innovation and transformation. Marilyn Margolis, MN, RN, NEA-BC, EJCH Chief Executive Officer says Henry's work has improved the hospital's productivity, capacity and growth.
"Hannah has worked tirelessly during the COVID-19 pandemic to collaborate and problem solve to ensure the best outcomes for our patients and staff, while continuing to oversee multiple service lines including radiology, pharmacy, rehabilitation therapy and our wound care center," says Margolis. "I couldn't think of anyone more deserving of this acknowledgement and I'm confident Hannah will continue to lead Emory Johns Creek Hospital to new heights with her commitment to process improvement, patient care and employee engagement."
To see the complete listing of Modern Healthcare's Top 25 Emerging Leaders list, visit www.modernhealthcare.com.
---