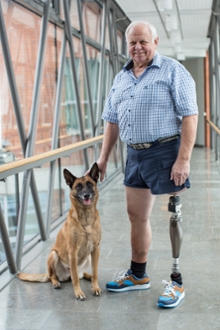 Patients at Emory Healthcare now have access to a new device to help with above-the-knee amputations. The FDA-approved device, known as the OPRA™ implant system, is used for patients with transfemoral amputation, typically due to trauma or cancer. Emory Healthcare is the first in Georgia to offer the new device with the launch of a new osseointegration program.
Osseointegration is a surgical procedure that aims to offer better quality of life and improved function and mobility in people who have had an amputation. The new program is led by two physicians specializing in orthopaedic oncology and orthopaedic surgery, Nickolas Reimer, MD, and Shervin Oskouei, MD. Both physicians serve as assistant professors of orthopaedic surgery at Emory School of Medicine.
"We're excited to introduce this new technology to our patients to advance their limb function and improve their quality of life," says Scott D. Boden, MD, vice president for business innovation for Emory Healthcare and professor and chair of the Department of Orthopaedics, Emory University School of Medicine.
"Unlike socket prostheses, bone-anchored prostheses allow the direct connection of an artificial limb to the skeleton, providing patients an increased range of motion and eliminating pressure and pain caused by the socket," says Reimer.
The implant system requires two surgeries, three to six months apart, for physicians to insert components into the residual limb and allow for proper osseoanchoring.
"We're hopeful this device can be transformational for patients who have experienced challenges with rehabilitation or can't use traditional socket prosthesis," says Oskouei.
"It's largely due to talented and innovative surgeons like Reimer and Oskouei that Emory Orthopaedics continues to be the 'go to' place for musculoskeletal tumors in Georgia and surrounding states," says Boden.

Integrum manufacturers the OPRA™ implant system provided to Emory Healthcare by Onkos Surgical. To learn more about Onkos Surgical, visit onkossurgical.com. To make an appointment at Emory Orthopaedics & Spine Center, call 404-778-3350.
---