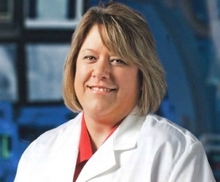 ATLANTA - Kari Love, RN, MS, program director of infection prevention in the Office of Quality at Emory Healthcare, has received the DAISY Foundation Nurse Leader Award, which recognizes extraordinary compassion in nurse leadership. Love is the first person from an office of quality to ever receive the award, and was nominated for her thoughtful leadership in response to the COVID-19 pandemic. 
"Kari's outstanding leadership and positivity have made a significant impact on the staff," says Victoria Jordan, PhD, MBA, MS, vice president of quality at Emory Healthcare. "Her calm demeanor reminds the nurses that they have the resources and support they need to feel safe."
During the COVID-19 pandemic, Love has adopted additional responsibilities to support the safety and preparedness of her team. She approved PPE (personal protective equipment) and disinfectant supplies for use by the clinical team and helped mobilize resources to open COVID-19 cohort units.
When the supply of face shields used by frontline workers became strained, Love worked with Georgia Institute of Technology (Georgia Tech) researchers to develop and print face shield prototypes to keep health care workers safe. Love and her team, partnering with Emory epidemiologists and nurses across the system, have also been coordinating and developing alternative methods for cleaning equipment, processes for testing and more.  
The nursing staff and infection prevention teams recognize her as a source of reassurance and mentorship.
"When the staff is feeling overwhelmed, Kari's smiling face makes a big difference. She reminds us that we are all in this together," Jordan says.
The DAISY (Diseases Attacking the Immune System) Award is an international recognition program for nurses. It was established by the family of J. Patrick Barnes, who died of complications from an autoimmune disease, to honor the exceptional nursing care he received while hospitalized.
Leadership from Emory Healthcare's Office of Quality presented the award to Love in June. Emory Healthcare congratulates all of its nurses who have also received DAISY Awards for exceptional leadership during the pandemic.
---