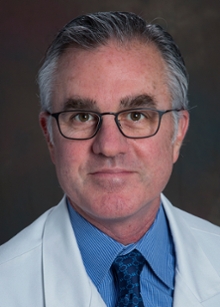 Charles Michael Cawley III, MD, has been named director of the Emory MBNA Stroke Center, one of the nation's leading stroke treatment and research centers.
"I am thrilled to announce Dr. Cawley's appointment as director of the Emory MBNA Stroke Center," says Jonathan S. Lewin, MD, FACR, executive vice president for health affairs, Emory University and CEO and chair of the board for Emory Healthcare.
"Dr. Cawley brings extensive experience, leadership and compassion to this critically important role. He will build upon the major research and treatment advances initiated within the center since its inception and continue the positive trajectory that has enabled this exceptional team of stroke specialists to improve lives and provide hope for thousands of patients," Lewin says.
Comprised of specialists in neurology, neurosurgery, neurocritical care and interventional neuroradiology, the Emory MBNA Stroke Center is one of the largest clinical practices in the nation. It was established in 2002 with financial support from MBNA Bank.
Cawley assumes leadership from Daniel Barrow, MD, who has led the Stroke Center since its inception. Barrow is the Pamela R. Rollins chair and professor of the Emory University Department of Neurosurgery and chief of the neurosurgery service at Emory Healthcare.
"I have spent many years working alongside Dr. Cawley since his neurosurgical residency at Emory almost 30 years ago and have witnessed his passion and dedication to our field," says Barrow. "Under Dr Cawley's leadership, along with Drs. Owen Samuels (neuro-critical care), Fadi Nahab (stroke neurology) and Jason Allen (radiology), this multidisciplinary team has among the very best outcomes in the nation. I look forward to continuing our lifesaving work pioneering new approaches for the diagnosis and treatment of stroke."  
"Dr. Cawley has contributed in many meaningful ways to the work being done in both neurosurgery and radiology over the years, and this is a well-deserved leadership role that he will capably handle," says Carolyn C. Meltzer, MD, FACR, the William P. Timmie Professor and Chair of Radiology and Imaging Sciences and Executive Associate Dean of Faculty Academic Advancement, Leadership and Inclusion.
Cawley is a professor of neurosurgery and radiology and is the section chief and director of endovascular neurosurgery and interventional radiology for Emory Healthcare. He has been a member of the Alpha Omega Alpha Honor Medical Society since 1989, is certified by the American Board of Neurological Surgeons, and served on the Executive Committee of the Congress of Neurological Surgeons. He also maintains leadership and membership positions in several medical societies, including the American Association of Neurological Surgeons, the Joint Section on Cerebrovascular Diseases and the American Society of Neurointerventional Surgery. Cawley's clinical and research interests lie in the treatment of neurovascular disorders via both surgical and endovascular means.
"I'm honored to have the opportunity to lead the Emory MBNA Stroke Center. Working alongside Dr. Barrow and our outstanding team, we will continue to develop its vision and build on the tremendous momentum of the past 18 years," says Cawley.
The multidisciplinary approach of the Emory MBNA Stroke Center ensures high-quality, patient-focused medical care, treatment and education. The Center earned the elite Comprehensive Stroke Center Certification from The Joint Commission and the American Heart Association/American Stroke Association in 2013.
---