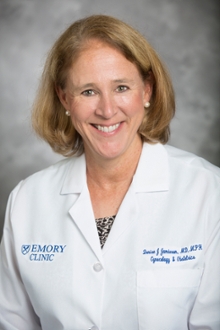 ATLANTA – Whether planning a pregnancy, currently pregnant or delivering a baby during the COVID-19 pandemic, an Emory University expert says critical information is limited about the effects of coronavirus on pregnant women and their newborns and much remains to be learned. An insights article on caring for pregnant women during the COVID-19 pandemic was published online on June 5 in the Journal of the American Medical Association (JAMA). The article is written by Emory's Denise Jamieson, MD, MPH, whose research focuses on emerging infectious diseases in pregnancy, and a colleague.
"Although considerable data on COVID-19 are available, we do not have much data on COVID-19 related to pregnancy, including if pregnant women are more susceptible to this illness," says Jamieson, the James Robert McCord Professor and Chair of the Department of Gynecology and Obstetrics, Emory University School of Medicine and co-author of the JAMA article. "Pregnant women are at risk for severe disease associated with other respiratory illnesses, but thus far, it does not appear that pregnant women with COVID-19 are at an increased risk for severe disease compared with the general population."
As findings from some small U.S. studies trickle in, more information is needed about the effects of underlying conditions in pregnant women to understand how and if they affect pregnant women and their newborns. Because of the high frequency of underlying conditions (or comorbidities) among pregnant women in the U.S., the researchers caution that the U.S. experience may differ from other countries. 
Little is also known about COVID-19 and transmission of the virus to newborns. While there have been some reports of preterm or low birth weight newborns born to mothers infected with COVID-19 during pregnancy, it is unclear if these outcomes were because of COVID-19. Questions also remain whether the virus might cause birth defects or pregnancy loss if mothers are infected earlier in pregnancy, according to the researchers. 
"We also need more data to understand if there is any correlation to intrauterine transmission, also known as vertical transmission across the placenta, related to COVID-19, and if transmission can occur through breastmilk," says Jamieson.
Given the limited data on pregnancy and COVID-19, recommendations for caring for women who are planning a pregnancy, pregnant or giving birth during the COVID-19 pandemic are based on expert opinion, the authors write.
"When and if considering pregnancy during the pandemic, based on limited data available, we believe there is no reason to delay pregnancy," says Jamieson. "For those who are currently pregnant, the main guidance offered is to take measures to avoid becoming infected with COVID-19 by social distancing, practicing good hand hygiene and wearing masks. For those women with COVID-19 infection admitted to the hospital to deliver their babies, early recognition of an infected patient is necessary to initiate appropriate infection control practices. Hospitals may also consider swab testing pregnant patients for COVID-19 when admitted for delivery."
The Centers for Disease Control and Prevention (CDC) and several professional organizations such as the American College of Obstetricians and Gynecologists (ACOG) have developed guidelines for diagnosing and caring for pregnant women with COVID-19. Jamieson was one of several experts who helped write the Practice Advisory national guidelines for ACOG.
One of the more difficult issues is determining where to care for the newborn at the hospital following delivery of a woman with known or suspected COVID-19. The authors recommend shared decision-making between the mother and her care team. Options include placing mom and baby in separate rooms temporarily to protect the baby from COVID-19. The mother could express breast milk for the baby following good hygiene, and a healthy caregiver could then feed the baby. A mother with COVID-19 who chooses to room with her newborn should wear a face mask and practice good hygiene before breastfeeding. Newborns born to mothers with COVID-19 at delivery should be considered to have suspected COVID-19 and should be isolated from healthy newborns, the authors write.
"We know that information on COVID-19 changes rapidly as additional data become available," says Jamieson. "That means recommendations may change. We hope to soon have more information and data from upcoming clinical trials on pregnant women with COVID-19 and their newborns. Clinicians should refer to the CDC and professional organizations for continued updates."
Sonja Rasmussen MD, MS, a professor at the University of Florida, co-authored the JAMA publication with Jamieson.
---