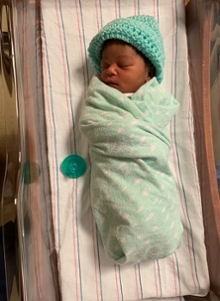 Emory Johns Creek Hospital welcomed two babies on Leap Day, Feb. 29.
The babies born on this day, known as "leaplings", will have to wait another four years to celebrate their birthdays.
One of the newborns, baby girl Reina was born at 4:34 p.m. She weighed 8 pounds and was 21 inches tall. Reina's parents, Oriana and Stephen says their daughter came a little early. She wasn't expected to make her arrival until March 11, but made her appearance on Leap Day instead.
"Birthdays will be interesting, that's for sure," says Oriana.
"We'll just have to celebrate the whole month of February!"
Reina's Dad, Stephen, says during leap years her birthday celebration will be extra special.
"We'll have to do something fun on Feb. 28 and March 1 since she'll only have a birthday every four years!"
Leap Day is an extra day added to the calendar every four years to synchronize it with the solar system.
---