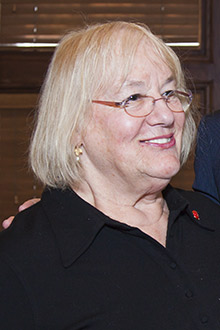 A memorial service will be held for Emory art history professor emerita Sidney Littlefield Kasfir at 1 p.m. on Sunday, Feb. 23, in Cannon Chapel on the Emory campus. 
Her funeral was held in Maralal, Kenya, in January. Kasfir passed away at age 80 on Dec. 29, 2019, after a brief illness in Kenya, where she was living part-time with her husband.  
Kasfir joined the Emory faculty in 1989, where she was a major contributor to both the Art History Department and the Institute for African Studies. An internationally renowned scholar of contemporary African art, she wrote on topics as varied as artisanal practices, masks and the effects of tourism on aesthetics.
"Sidney Kasfir was an extraordinary figure, one of a kind," says Sarah McPhee, chair and Samuel Candler Dobbs Professor of Art History. "She was a renowned scholar, beloved colleague, teacher and mentor — a star in the firmament of Emory's art history program."
For nearly two decades, Kasfir also played the critical role of faculty curator of the African art collections in the Michael C. Carlos Museum. At the time of her retirement in 2011, she was honored for both her mentorship of generations of Emory students as well as the profound effect she had on shaping the field of contemporary African art history. 
Her scholarship helped move the emphasis on African art from generalizations to focusing attention on the complex interplay between artists, cultures and visual languages. 
"Her passion for her subject and the fearless imagination and rigor with which she pursued it inspired generations," McPhee says. "Her work has done much to shape the current field of African art and her example is carried forward by the remarkable young scholars she mentored, now stars themselves. She is missed and mourned."
Kasfir received the Heilbrun Distinguished Emeritus Fellowship to support her ongoing research on the effects of globalization on the marketplace for African art. In 2017, she was awarded the Lifetime Achievement Award from the Arts Council of the African Studies Association.
She started out a scientist, obtaining a degree in astronomy and physics from Simmons College, but changed careers to pursue a master's degree in classical Greek and Roman art, which she completed at Harvard University in 1966.
While living in Uganda, she discovered a passion for African art. After directing the Nommo Gallery (the only art gallery in the country at the time), she pursued graduate studies focused on the Idoma in Nigeria and obtained a PhD in African Art history from the London School of Oriental and African Studies in 1979. 
She taught at Dartmouth College and other New England colleges in the 1980s, followed by her 23-year tenure at Emory. 
Kasfir is survived by her daughters Melania Turgelsky and Elisabetta Kasfir; granddaughters Zoe and Madeleine Turgelsky; husband Kirati Lenaronkoito and his 10 children; and her sisters Natalie Archer and Nina Bisognani.
---