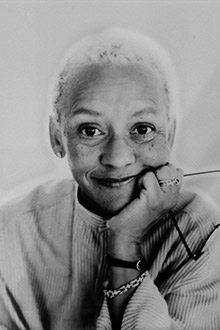 Note: This event could reach capacity. Seating is limited, so please plan to arrive early and allow for traffic in the event area.
Celebrated activist poet Nikki Giovanni will read her work on Saturday, Feb. 22, at 4 p.m. at Emory University's Schwartz Center for the Performing Arts. 
The event is open to the public at no charge. Tickets are not required, but seating will be limited. Books and a limited-edition broadside will be for sale at the reading, with a signing immediately after. 
The reading is part of the Raymond Danowski Poetry Library Reading Series, now in its 15th season.
In addition, Giovanni also is the guest poet at the 20th anniversary 12th Night Revel, the Rose Library's signature fundraising event, on Friday, Feb. 21. Previous guest poets include Richard Blanco, Juan Felipe Herrera, Rita Dove, Seamus Heaney, Paul Muldoon, Billy Collins and Elizabeth Alexander. To purchase tickets, please visit the 12th Night Revel ticket page.
Giovanni has written many collections of poetry during her long career, starting with her first self-published volume "Black Feeling, Black Talk" (1968). She also has published several works of nonfiction, children's literature and multiple recordings, including the Grammy-nominated "The Nikki Giovanni Poetry Collection" (2004). Her most recent publications include "Chasing Utopia: A Hybrid" (2013), the children's book of poetry "I Am Loved" (2018) and, as editor, "The 100 Best African American Poems" (2010).
Among Giovanni's numerous awards are the inaugural Rosa L. Parks Woman of Courage Award, the American Book Award, the Langston Hughes Award, the Virginia Governor's Award for the Arts and the Emily Couric Leadership Award. She is a seven-time recipient of the NAACP Image Award. 
Giovanni earned her bachelor's degree in history from Fisk University in 1967. During her time there she worked to restore the university's chapter of the Student Non-Violent Coordinating Committee, an offshoot of the Southern Christian Leadership Conference for younger blacks during the civil rights movement. (Emory's Rose Library holds the SCLC papers and those of several activists affiliated with SNCC.) Having previously taught at Rutgers and Ohio State universities, Giovanni has been an English professor at Virginia Tech since 1989. She was named a University Distinguished Professor there in 1999 and has received honorary doctorate degrees from more than 27 colleges and universities.
Giovanni's upcoming reading is sponsored by the Hightower Fund, with support from Emory Library and Information Technology Services (LITS), the Rose Library and the Creative Writing Program at Emory. 
The Schwartz Center is located on the Emory campus at 1700 N. Decatur Rd. in Atlanta, 30322. Parking is available in the Fishburne deck. For disability-related accommodations, please contact Emory Libraries events manager Maya Cody in advance at 404-727-7620 or maya.cody@emory.edu.
---