ATLANTA – The Georgia Hospital Association (GHA) awarded Emory employees and identical twin sisters Dora Richter and Fania Szlam the prestigious GHA Hospital Hero Award at the association's annual Hospital Hero Awards luncheon earlier this month. They were recognized for their longtime dedication to the health care system and the community it serves.
Richter and Szlam have both worked at Emory Healthcare/Emory University for more than 40 years. Richter, a registered pharmacist, is a manager of the inpatient pharmacies at Emory University Hospital; Szlam, who holds a master's degree in medical science, is a research lab manager in Emory's Department of Anesthesiology. The veteran employees have earned the accolades of many colleagues, supervisors and other leaders over the years because of their commitment, strong work ethic and attention to detail in the workplace.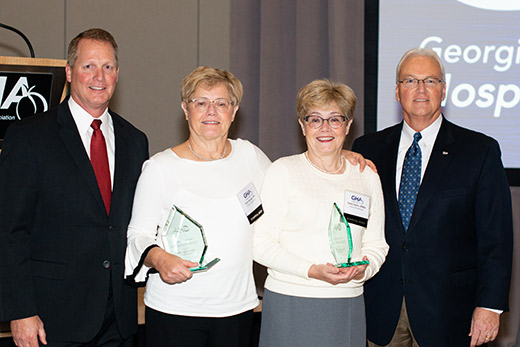 (From left to right) GHA Chair Kevin Bierschenk, Dora Richter, Fania Szlam and GHA President and CEO Earl Rogers at the 2019 GHA Hospital Hero Awards Luncheon earlier this month
As Polish immigrants coming to the United States at the age of 20, Richter and Szlam spoke little English. Despite the challenges of navigating a new country, each had the drive to master a new language and complete graduation education. They began working at Emory in the 1970s and have been on staff ever since, driving to and from work together most days from their adjacent homes.
Richter manages nearly 50 staff members across several pharmacies at Emory. Her conscientiousness has greatly enhanced patient safety. She works tirelessly to optimize the operations of the pharmacies and frequently meets with other hospital departments to ensure they have the drugs they need at the right time. During her career, Richter has helped in designing and opening several new inpatient and satellite pharmacies at Emory Healthcare, all of which she still oversees today.
In the anesthesiology research lab, Szlam's dedication has contributed to the development of many pharmacologic and management therapies that have proven applications in cardiac and other surgical patients. Testing blood samples in the lab, she is able to look at how certain anticoagulant drugs, commonly known as blood thinners, affect clotting mechanism and reduce or prevent formation of clots.
Szlam has trained numerous international- and U.S.-educated postdoctoral fellows and is co-author of more than 50 peer-reviewed publications. She has participated in multiple clinical studies with the goal of improving clinical practice to benefit patients.
"We are very appreciative of the many contributions and long-standing commitments both Dora and Fania have made to Emory during their lengthy careers here," says Bryce Gartland, MD, Emory Healthcare Hospital Group President. "It is employees like Dora and Fania who make Emory such a terrific place for our patients and their families. We congratulate them on receiving the Georgia Hospital Association Hospital Hero Award."
GHA has been holding its annual Hospital Hero Awards honoring select hospital staff and physicians throughout the state since 2005. 
"Dora Richter and Fania Szlam are two exceptional employees who embody selflessness and dedication," says GHA President and CEO Earl Rogers. "The hospital community, from local to international, has benefited tremendously from their work over the past four decades. We are pleased to honor them with this award."
---
About Emory Healthcare
Emory Healthcare, with more than 24,000 employees and 11 hospitals, is the most comprehensive academic health system in Georgia, with $4.4 billion in annual net revenue. System-wide, it has 2,691 licensed patient beds, more than 2,800 physicians practicing in more than 70 specialties and serves metro Atlanta with 250 locations. It is the only health system in Georgia with three Magnet-designated hospitals for nursing excellence: Emory Saint Joseph's Hospital, Emory University Hospital and Emory University Orthopaedics & Spine Hospital. Emory Healthcare'smission is to improve the health of individuals and communities at home and throughout the world.For more information, visit emoryhealthcare.org.
About GHA
Founded in 1929, GHA serves more than 170 hospitals in Georgia and promotes the health and welfare of the public through the development of better hospital care for all Georgia's citizens. The mission of GHA is to advance the health of individuals and communities by serving as the leading advocate for all Georgia hospitals and health care systems. GHA represents its members before the General Assembly and Congress, as well as state and federal regulatory agencies, and is an allied member of the American Hospital Association. For more information, call 770-249-4500 or visit gha.org.
---