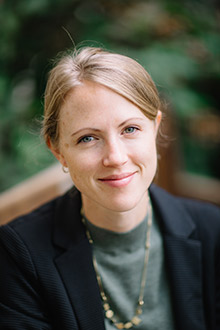 Alison Hoover's introduction to reproductive health began fortuitously when she was studying international political economy at the University of Puget Sound. Interested in human trafficking and Middle Eastern studies at the time, she was set to study abroad in Morocco when the Arab Spring occurred. Forced to switch to another study abroad trip, she pivoted to a public health program in Chile.
"I went and absolutely loved it. It tied together a lot of the central issues I was interested in," says Hoover, now a first-year master's of public health student and James W. Curran Scholar at Emory's Rollins School of Public Health. "While I was there, I studied the abortion climate, and the rest is history."
Hoover was recently selected as one of 40 honorees in the 2019 cohort of 120 Under 40: The New Generation of Family Planning Leaders. Led by The Bill & Melinda Gates Institute for Population and Reproductive Health with support from Bayer, the awards recognize young leaders working to advance family planning and reproductive health. Forty recipients are selected each year for three years, bringing the total to 120 for the program.
The achievement epitomizes the last six years of Hoover's life. Five months after college graduation, she took what was intended to be a three-month position in Vietnam and ended up staying abroad for five years in a variety of public health communications roles, including sex education communication. During that time, she also co-led a social enterprise that used the profits from selling organic cotton products to fund sexual education workshops in Hanoi.
Bringing lessons from abroad back home
When contemplating relocating back to the U.S., she connected with documentary filmmaker and World Vasectomy Day (WVD) co-founder Jonathan Stack, who was interested in hiring her as part of his team.
"It was a totally new narrative," recalls Hoover, as she reflects on WVD's aim to elevate men as positive agents of change. "We're encouraging what many men are already doing through this silent and private procedure, and bringing vasectomies under a more normalized, appreciated light." 
In her role as program manager of WVD, a position she continues to hold while she's a full-time Rollins student, Hoover has developed, managed, monitored and scaled an eight-step framework for sustainable vasectomy programs in India, Mexico, Haiti and Rwanda.
She also assists with organizing and communicating the annual World Vasectomy Day event, which requires working with local governments and partners to address their primary barriers to vasectomy. WVD now actually spans closer to a week, and includes a symposium (this year's is in Bogota, Colombia, Nov. 17-22), a global event and free vasectomies. 
"It's fascinating. In Mexico, 17 percent of the men who got their vasectomies on World Vasectomy Day were childless," Hoover says. "This is not just for traditional hierarchies or your prototypical family, this is individual. It's about how you identify your goal, your sacrifice, your contribution, whether or not you have kids or a partner. It's about individual choice and celebrating responsible masculinity." 
Finding and fulfilling health needs
Aside from the prestige and networking opportunities that come with being a 120 Under 40 winner, Hoover will receive $1,000 to put toward her work in family planning, which she plans to direct to a California project she started earlier this year working with local shelters and health departments to provide menstrual products to homeless women in the Bay Area.
Coming to the East Bay area after living abroad, Hoover was startled to find homelessness at crisis levels. In her typical fashion, she rolled up her sleeves and got to work. 
"I wanted to find something that was a more meaningful contribution than dollar bills and granola bars, and so I put on my lens of expertise, and started looking into it," she says. She found that while there was some access to contraception, there was very little access to sanitary products. 
With boots on the ground, Hoover talked to homeless women about their needs, led a GoFundMe effort to raise money and began purchasing supplies last spring. Now she's working to develop relationships with San Francisco shelters, organizations and libraries to stock supplies and meet the community's needs.
She will take the same idea into her discussions with Atlanta-area libraries and organizations as she explores the availability of sanitary products among the homeless population here during her time as an Emory student.
Though Hoover is only a few months into her MPH program, she notes that she's already seeing the benefits of her communications background in her studies and interactions. 
"I think no matter what you do, communications skills are so relevant, and everything from programs to research is made more effective through effective communication," she says. "Human storytelling is a powerful component of that. I really hope to continue using digital media in whatever it is I end up doing, because of how powerful it is in creating empathy. And the key to sexual and reproductive health progress is losing the shame surrounding it and building empathy for those around you."
---