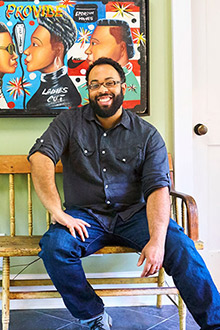 Poet and Emory University Distinguished Professor Kevin Young returns to the Emory campus for two events related to his most recent book, "Brown: Poems."
A Creativity Conversation at 4 p.m. on Wednesday, Dec. 4, will feature Young and creative writing faculty member Heather Christle in a conversation about creativity. Young will also read some short poems from his work during the discussion. The conversation will take place in the dance studio of the Schwartz Center for Performing Arts. A Q&A session and book signing will follow.
A poetry reading and pre-event reception will take place Thursday, Dec. 5. The reception will be at 5:30 p.m. in Emory's Rose Library. Young's reading and book signing will begin at 7 p.m. in Ackerman Hall of the Michael C. Carlos Museum.
Both events are free and open to the public. Seating for Thursday's poetry reading is limited, so attendees are asked to register in advance.
Young, who served as curator of literary collections and the Raymond Danowski Poetry Library at Emory's Rose Library for nine years, is the poetry editor of "The New Yorker" and the director of the Schomburg Center for Research in Black Culture in Harlem. 
His other books include "Bunk: The Rise of Hoaxes, Humbug, Plagiarists, Phonies, Post-Facts and Fake News" (2017); "Blue Laws" (2016); "Book of Hours" (2014); "The Grey Album" (2012); "Jelly Roll" (2003) and the anthology "The Art of Losing" (2010).
---