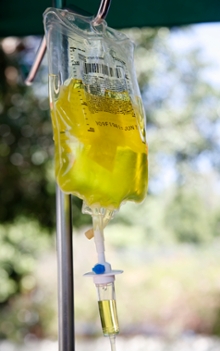 ATLANTA – For critical care patients diagnosed with sepsis and acute respiratory distress syndrome (ARDS), a severe lung condition, researchers at Emory University and four other academic medical centers have found that treating them with intravenous vitamin C did not significantly improve organ failure or combat inflammation within the body when compared to a placebo. Although the findings did show that the group provided with vitamin C experienced fewer deaths compared to the placebo group. The results of this first-of-its-kind clinical trial were published today in the Journal of the American Medical Association (JAMA).
"Because the acute respiratory distress syndrome is one of the most difficult conditions we treat in the ICU, and one of the most common forms of organ dysfunction we encounter when caring for patients with sepsis, we wanted to study the use of vitamin C in patients diagnosed with both sepsis and ARDS," says Greg Martin, MD, MSc, professor of medicine, Emory University School of Medicine and principal investigator for the CITRIS-ALI (Vitamin C Infusion for TReatment In Sepsis-Induced Acute Lung Injury) study at Emory and Grady Memorial Hospital. "Despite decades of work by teams around the world studying ARDS and testing potential treatments, there is no medication or intervention to treat the condition."
Many treatments have also been tried and tested to combat sepsis, a life-threatening illness caused by the body's extreme response to infection. "Several previous small studies testing vitamin C in sepsis patients have shown some benefits, particularly for preventing or treating the organ dysfunction that occurs as part of sepsis," says Martin.
In the CITRIS-ALI study, 167 hospitalized patients diagnosed with both sepsis and ARDS were enrolled in the study at the five participating medical centers in the U.S. Patients were randomly assigned to receive intravenous infusion of vitamin C or placebo every six hours for 96 hours. The study was conducted from September 2014 to November 2017.
Out of 167 participants in the CITRIS-ALI study, 103 participants completed the study up to day 60. While some of the outcomes did not show significant improvement, one outcome was encouraging, with further study needed.
"The CITRIS-ALI study showed that patients with sepsis and acute respiratory distress syndrome treated with vitamin C did not have lower measures of organ failure after four days of therapy compared with patients treated with placebo," says Jonathan Sevransky, MD,MHS, professor of medicine in the Division of Pulmonary, Allergy, Critical Care and Sleep at Emory and co-principal investigator of the trial at Emory. "Blood tests in patients treated with vitamin C also did not show decreased levels of inflammation or vascular injury."
"However, in one of the secondary analyses, mortality at 28 days in those patients treated with vitamin C was lower than in those patients treated with placebo," explains Sevransky. "While this is encouraging, secondary outcomes tested in a trial are considered exploratory and preliminary requiring further study, rather than definitive."
Martin adds, "The mixed results in the CITRIS-ALI trial show a positive difference in mortality but without consistent results telling us why, strongly supporting the need for additional studies. 
Other participating academic medical centers in this study included Virginia Commonwealth University (VCU), Medical College of Wisconsin, Cleveland Clinic and the University of Kentucky. 
The study was supported by the National Heart, Lung and Blood Institute (UM1 HL116885), the National Center for Advancing Translational Science Award (UL1 TR000058), National Institutes of Health (P50 AR072000), VCU Investigational Drug Services and McGuff Pharmaceuticals, who supplied the vitamin C to conduct the trial.
---