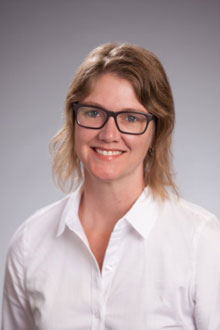 Emory researchers recently published a study in Annals of Neurology focusing on brain markers of Alzheimer's disease (AD) in Caucasians compared to African Americans.
Led by first author Whitney Wharton, PhD, at the Nell Hodgson Woodruff School of Nursing, and senior author William T. Hu, MD, PhD, associate professor of neurology at Emory University School of Medicine, the study examines potential reasons why African Americans are more likely to develop AD than Caucasians. Via lumbar punctures, the researchers looked at spinal fluid biomarkers in a range of participants in an effort to detect whether race modified levels of tau – a key AD protein – and patterns of inflammation (often caused by aging, physiological changes, or chronic stress, but also in response to AD).
They identified different AD-related biomarkers in African Americans compared to Caucasians beginning in middle age (45-65 years old) before any cognitive decline is present, similar to studies with older participants.
"Not only did we determine that these brain changes related to Alzheimer's happen start very early, but we also found race differences pertaining to inflammation in middle age and across the disease processes," says Wharton.
The team also found a key inflammatory mediator (interleukin 9) at the center of these differences, and confirmed their findings in brains of people who died from AD collected by the Emory and Mount Sinai Brain Banks. This evidence showed race to potentially impact AD many years before the disease begins.
"We came upon a very surprising finding that, other than immune cells, many brain cells also had interleukin 9 in them," says Hu. "AD may elicit some unique downstream effects in African Americans that are not present in Caucasians."
Through study findings, the researchers hope to help those more vulnerable to AD, including African Americans, women and individuals with a parental history, take more preventative methods earlier in life. Though Wharton mentions you can do everything perfectly and still get AD, there are ways to lower the risk. Maintaining a healthy lifestyle and routine doctor appointments are necessary to keep vascular risk factors, blood pressure, diabetes and lipids in check.
"While the general public need to take diet, sleep and stress into account," Wharton says, "scientists should continue to enroll unrepresented groups into clinical studies and trials so we can understand these differences. It is absolutely not a one-size-fits-all cure."
This work was supported by the National Institute on Aging (AG43885, AG42856, AG25688, K01AG042498).
---