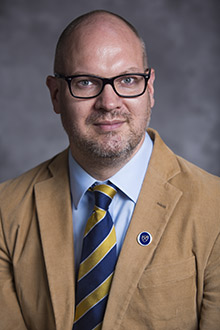 Joel P. Baumgart has been appointed assistant vice provost for faculty success and recognition to further enhance and expand the support faculty require in receiving acknowledgement for their teaching, research and scholarship. Baumgart will support faculty in all schools and disciplines and at every stage of their professional development.
"The One Emory strategic framework is intended to elevate and celebrate the most important resource we have at the university: our faculty," says Tim Holbrook, vice provost for faculty affairs. "Our faculty is undeniably outstanding, and it is incumbent on the university that their successes in scholarship, teaching and service are appropriately recognized. Joel will facilitate such efforts through the nomination of faculty for distinguished awards, honors and prestigious fellowships."   
Baumgart, most recently serving as a senior research program officer in the University of Virginia's Office of the Vice President for Research, served as a U.S. Fulbright Scholar in Tanzania in 2015-16, and previously as an American Association for the Advancement of Science (AAAS) Science & Technology Policy Fellow in the Office of the Director at the National Institutes of Health, and as a Christine Mirzayan Science and Technology Fellow at the National Academy of Engineering.
"I have long admired the leadership Emory faculty have exhibited in virtually every field of academia," says Baumgart. "My role is to help our faculty at all career stages to receive well-deserved recognition for achieving research breakthroughs, creating new knowledge and developing tomorrow's leaders — accomplishments that contribute to the benefit of humanity."
Baumgart is a diplomate of the American Board of Toxicology and has recently been selected to the New Voices program at the National Academies of Sciences, Engineering and Medicine. He is the recipient of numerous awards, including in the natural and social sciences.
His degrees and post-doc training include: post-doc, pharmacology, Cornell University Weill Medical College; PhD, neuroscience, University of Virginia; MA, African American Studies, Columbia University; BS, biochemistry, and BA, psychology, University of Missouri.
---