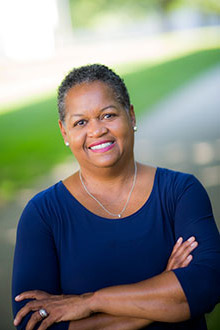 Lynell Cadray has been appointed Emory's inaugural university ombudsperson and senior adviser to the president, a role that will provide the campus community with a new resource for informal conflict resolution.
As university ombudsperson, Cadray will serve as an impartial, neutral and confidential third party available to work with Emory faculty, staff and administrators — and students, when appropriate — to resolve university-related conflict through consulting, negotiation and mediation.
In that role, she will be part of Emory's presidential leadership team, advising Emory President Claire E. Sterk on policies and systemic issues of concern and identifying behavioral trends and patterns that require attention. She will also convene a Coalition on Conflict Management at Emory.
"I'm delighted that Lynell Cadray has agreed to serve in this important role," Sterk says. "Everyone at Emory should have the opportunity to put forth their best effort in a workplace environment that is healthy and thriving. If and when we do encounter conflict on the job, finding a trusted navigator like Cadray can be key to achieving resolution and moving forward."
Interest in creating a dedicated office for conflict resolution has been supported in recent years by both Emory's Faculty Council and University Senate; it was also endorsed by the Committee on Class and Labor following the university's first Class and Labor Report.
Cadray steps into the new role after serving Emory's Office of Equity and Inclusion for the past five years as both vice provost and associate vice provost. Those responsibilities will be carried forward by Carol Henderson, Emory's first chief diversity officer, who was named vice provost for diversity and inclusion and adviser to the president earlier this summer.
Conflict, concerns, next steps
Although Emory currently hosts a number of outlets for addressing formal campus conflicts — including the Faculty Staff Assistance Program, Employee Relations Department and, for students, Counseling and Psychological Services, the Office of Equity and Inclusion and the Office of Spiritual and Religious Life —  Cadray says an ombudsperson can offer an informal, practical, accessible starting point on the road towards resolution.
Visitors can expect to find a confidential environment in which to discuss conflicts and concerns and consider next steps. To preserve informality and confidentiality, no written records are created about those meetings, Cadray says. As a result, visitors may feel free to discuss options without going on the record or committing to a course of action.
Working with an ombudsperson is also a quiet way for individuals to make their voices heard within a larger institution by identifying broader problems, she adds.
Towards that end, Cadray says she will help identify systemic issues or patterns of behavior that "interfere with Emory faculty, staff members or students when attempting to do their best work" and advance those trends to the president's office, offering recommendations to foster healthy and balanced work environments.
Cadray envisions the Office of the Ombudsperson providing a critical new resource for the Emory community, adding that she's honored to have been given the opportunity to help guide it. "I believe wholeheartedly in being a catalyst for change," she says. "Over the next few months, I will work to establish a confidential space where the Emory community — faculty, staff and students — can share those concerns that most matter to them."
"Confronting campus conflict head-on, regardless of scope or size, will allow each of us to help make Emory the best possible place to work, teach, live and learn," she explains. "That is the ultimate goal."
Cadray starts her new role on Oct. 1. As she dedicates her time to setting up the office, plans are to be open for services by mid-January 2020.
---