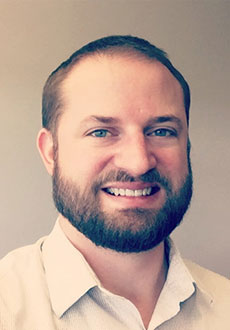 Daniel Harper, PhD, is the recipient of the Woodruff Scholar Early Independence Award, which comes with a $50,000 award to support his research and career development. Recipients of this honor have been identified as rising stars, with outstanding early-career accomplishments and strong potential to become future leaders of Emory.  
Recently recruited to Emory as an assistant professor in the Department of Anesthesiology with a secondary appointment in Physiology, Harper focuses his research on sensation and pain. His contributions include insights into the mechanisms by which pain and other sensory signals are modulated differently in chronic pain patients. His work also sheds light on how pain signals interact with other somatosensory signals, including tactile and thermal signals. Harper also is the recipient of a K99 NIH award that is transitioning to a three-year R00 award as he joins the Emory faculty. 
Funding from the Woodruff Scholar Early Independence Award will enable Harper to continue his current research and establish new collaborations with faculty across the health sciences, including medicine, neurology, psychiatry, psychology, oral and maxillofacial surgery, radiology and physiology.
"Dr. Harper's meteoric rise is nothing short of remarkable," says Andrew Jenkins, MD, associate professor of anesthesiology and division chief for anesthesiology and pharmacology research. "This award will help cement his position at Emory as an emerging leader in the field of pain medicine.
---