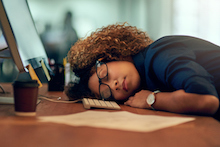 The National Institute of Neurological Disorders and Stroke has awarded a five-year $2.1 million grant to Emory neurologist Lynn Marie Trotti, MD for clinical research on sleep disorders.
Trotti and her colleagues at Emory Sleep Center discovered a decade ago that the antibiotic clarithromycin can reduce pathological sleepiness in people for whom more conventional treatments were not satisfactory. The new grant will enable researchers to dissect possible mechanisms behind clarithromycin's effects.
Trotti is associate professor of neurology at Emory University School of Medicine and Emory Brain Health Center. She is also chair of the medical advisory board for the Hypersomnia Foundation.
"This study will allow us to learn more about the biology of understudied sleep disorders, and could resolve some questions about how clarithromycin works," Trotti says. "It could provide a foundation for the future development of needed therapies."
In cultured neurons, clarithromycin appears to reduce signaling through GABA, an inhibitory neurotransmitter with an established role in regulating sleep. Because clarithromycin is an antibiotic, it may also be acting by tamping down inflammation or pruning some varieties of intestinal bacteria. Trotti and her team plan to measure effects on GABA signaling, as well as brain imaging and probing changes in the intestinal microbiome and inflammation.
The clinical study is designed for people diagnosed with narcolepsy type 2 OR idiopathic hypersomnia, two disorders that have excessive daytime sleepiness as the primary symptom.
"On paper, the two disorders do differ, in terms of some REM sleep-related symptoms and performance on a diagnostic test," Trotti says. "However, many sleep specialists have argued that distinctions between narcolepsy type 2 and idiopathic hypersomnia are arbitrary, and the pathology and mechanisms behind them are equally unclear. That's why we are including both in our study."
In 2015, Trotti and her colleagues published the results of a randomized clinical trial testing clarithromycin, which found that the drug could reduce subjective sleepiness in people with narcolepsy type 2 and idiopathic hypersomnia. It remains one of only three published randomized controlled trials that have included people with idiopathic hypersomnia.
Clarithromycin is available as a generic drug. It is used to treat skin, ear, sinus or lung infections. Clarithromycin is counter-indicated for people with coronary artery disease, according to a 2018 safety alert from the Food and Drug Administration. The Emory clinical study has an age limit of 45, because of this consideration.
Diagnosis of narcolepsy type 2 or idiopathic hypersomnia involves a daytime nap study, also known as the Multiple Sleep Latency Test, or wrist activity monitoring to gauge sleep time. More information about Emory Sleep Center is available here. More information about the clinical study is available at Clinicaltrials.gov or from Natalie Fernandez: 404-778-6114 / natalie.fernandez@emory.edu.        
 
---