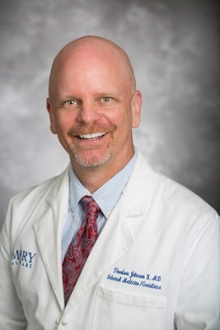 ATLANTA – Emory University has been granted a $3.75 million training award by the U.S. Health Resources and Services Administration (HRSA) to improve outcomes for older adults and education for health care workers who care for them across urban and rural areas of Georgia. The five-year grant will support the Georgia Geriatrics Workforce Enhancement Program (GA-GWEP), a program operated through Emory's Center for Health in Aging.
The grant supports three critical areas in geriatric care: 1) improving geriatric education of physicians, health care professionals and their inter-professional teams; 2) engaging primary care teams in work re-design to allow better address of what matters to older patients; and 3) community level partnering to address the needs of seniors in rural and underserved communities.
"This award will help equip health professionals in the state of Georgia to better care for older adults in geriatric clinics, hospitals and communities across the state," says Ted Johnson, MD, MPH, Paul W. Seavey Chair and chief of the Division of General Medicine and Geriatrics at Emory and chair of Emory's Department of Family and Preventive Medicine. "We will collaborate across institutions and disciplines in a coordinated and supportive manner to train health care workers and offer more wellness programs to older adults."
Partner organizations involved in this training grant include state and state-sponsored programs (the Georgia Memory Net, the Georgia Physicians Order for Life Sustaining Treatment Collaborative and the Georgia Division of Aging Services); primary care clinical practices in the Georgia communities surrounding Albany, Atlanta, Augusta, Columbus and Macon; academic partnerships (Mercer University College of Health Professions, Georgia's new hospital-based primary care residencies, and Emory University); and community programs (Dementia Friendly Faith Communities program and the Atlanta Medical Associations that are local chapters of the National Medical Association).
"Our work with this training grant will focus on multi-level and multi-component strategies that extend from church to clinic and from classroom to charting," says Johnson. For example, Emory will aim to improve care for older adults by focusing on creating complete individualized care plans during the Medicare Annual Wellness Visit in the primary care setting, while Mercer will send its health professional students to primary care settings to work with interdisciplinary teams. The Georgia Division on Aging will focus on offering community-based programs for patients judged to be at risk for falls and nursing-led outreach will work with African-American churches and communities to provide teaching and outreach to families and caregivers on Alzheimer's disease and Related Dementias (ADRD).
"Only 20 percent of 385,000 Georgians with self-reported cognitive impairment have been evaluated or treated, calling out the need for community-based education and primary care practice change," says Johnson. "African Americans, who have a higher prevalence of ADRD are often underserved, and their caregivers are often not provided with robust caregiver education and support. This grant will help us in both of these specific areas."
Georgia also lacks for geriatricians, clinicians who care for older adults. In the only two geriatric fellowship training programs in Georgia, one of which is at Emory, just four fellows are training this year.
"We have only 27 percent of the geriatricians needed for the state's population, which is twice the national geriatrician deficit," says Johnson. "To help support our population of older adults, we want to partner with primary care providers and their teams to deliver the best evidence-based care." 
The team will address opioid use and proper pain management in the older adult, advanced care planning, assessing older adults' risk for falls and intervening to reduce that risk, and appropriate colorectal cancer screening. To best assess outcomes, the team will evaluate how new knowledge is gained and the effect of this on quality of care delivered. 
This is the second grant Emory and partners have received from HRSA for work in geriatrics care and patient outcomes. In 2010, HRSA awarded the Atlanta Regional Geriatrics Education Center (ARGEC) a $2.08 million contract aimed at improving regional health outcomes through education in geriatrics directed at health professionals. That five-year funding of a regional consortium included Emory University School of Medicine, Morehouse School of Medicine, Georgia State University and the Atlanta Regional Commission. 
HRSA, which is funding this new statewide training grant (U1QHP330700100), is an agency of the U.S. Department of Health and Human Services. It is the primary federal agency for improving health care to people who are geographically isolated, economically or medically vulnerable.
---