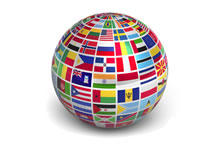 The Emory Global Health Institute has selected new Atlanta community members for its Global Health Council, aimed at supporting the Institute's mission of improving health around the world.
"We are extremely pleased to announce these new members of our Global Health Council," says Kim Nolte, senior director of development for the Emory Global Health Institute. "These highly accomplished Atlanta leaders, who represent a wide array of industries and disciplines, will offer a broad perspective on new ways to engage our local community in global health efforts."
Council members will help to advance the strategic objectives of the Global Health Institute and work to sustain and expand its programs. Members will actively support the mission, programs and activities of the Institute, including Emory faculty members and students engaged in a variety of global health research, scholarship, service and training activities.
"We are confident that our new council members will play an active role in identifying opportunities for the Global Health Institute to participate and contribute at the local and global level and provide input and guidance on our communications and engagement strategies," says Jeffrey P. Koplan, MD, MPH, Emory vice president for global health. "These distinguished apointees will act as our ambassadors among our many constituencies and create and enrich linkages with external partners."
New members of the Emory Global Health Council will serve three-year terms.
Veronica Biggins, managing director and head of board practice of Diversified Search
Augustus Hudson, director of emergency management and communications at Hartsfield-Jackson International Airport.
Phil Jacobs, founding Partner of the Pendleton Group and senior consultant for Coxe Curry and Associates.
Derreck Kayongo, founder, Global Soap Project and former CEO, National Center for Civil and Human Rights.
David Miller, founder and CEO of PeachCap 
Cammie Rice, chairman of the board, Alliance for Kids; founder and board chair of Christopher Wolf Crusade; former senior level executive in technology and financial services
John Rutherford Seydel III (John R.), director of sustainability, City of Atlanta Mayor's Office of Resilience
---