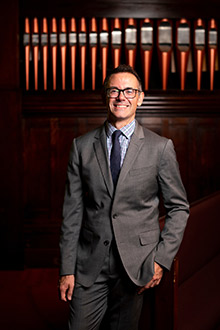 Following a national search, Emory University has selected the Rev. Gregory W. McGonigle as university chaplain and dean of spiritual and religious life. McGonigle, who currently serves as university chaplain at Tufts University, will assume the post in August 2019.
"I am very pleased that Rev. McGonigle is joining the Emory community," says Emory President Claire E. Sterk. "His vision for religious and spiritual life, together with his recognition of the need for engagement within and outside the Emory community, will encourage all of us to be thoughtful partners in our shared mission to serve humanity — and to engage deeply with our world today." 
McGonigle is an ordained Unitarian Universalist minister with a strong background in world religions, ecumenism and religion in the contemporary world. His work has focused on expanding religious literacy and supporting diverse spiritual practices, while identifying opportunities for interfaith engagement. 
Prior to Tufts University, where he has served as university chaplain for the past six years, McGonigle served as director of the Office of Religious and Spiritual Life at Oberlin College. Previously, he served as an associate campus minister at the University of California, Davis, and he also has ministered in congregational, health care and public health settings.
Within the demanding context of a research university, McGonigle will provide visionary leadership across the entire community to support spiritual life and create opportunities for interfaith collaboration. As both a practitioner and educator, he will be charged with encouraging the enrichment of the spiritual lives and ethical awareness of students, faculty and staff.
Robert Franklin, who holds the James T. and Berta R. Laney Chair in Moral Leadership at Emory's Candler School of Theology, served as chair of the search advisory committee. "This role is a critical part of the Emory community, and the search committee took great care in finding the right fit," Franklin says. "As a Unitarian Universalist minister, Rev. McGonigle believes that we all share a common aspiration for truth, justice and spiritual wholeness, and we are all on a journey together. This is an inclusive vision in which we can all find great inspiration." 
During McGonigle's time at Tufts, he oversaw the Goddard Chapel and Tufts Interfaith Center, where he developed a program with a strong interfaith perspective and grew the center to include 10 chaplains and staff from multiple faith traditions. The pluralistic framework he developed created an environment where the chaplains modeled an interfaith community among themselves and sought to promote a justice-centered vision of spiritual life today.
He is a past president of the National Association of College and University Chaplains (NACUC) and currently a board member in the Association for College and University Religious Affairs.
"I am delighted to be joining the Emory community, which has such a proud heritage of spirituality and social justice at its heart," McGonigle says. "I look forward to working with university leaders, the excellent team in OSRL, faculty, staff, students and community members — all those interested in religious life and interfaith work — to advance the university's vision for a global, multifaith spiritual life program for Emory's diverse community today."
McGonigle received his Bachelor of Arts in religious studies from Brown University and a Master of Divinity from Harvard Divinity School. He is currently completing a doctorate at Boston University School of Theology. His dissertation is focused on diversifying college and university chaplaincies.
ABOUT EMORY UNIVERSITY'S OFFICE OF SPIRITUAL AND RELIGIOUS LIFE
The Office of Spiritual and Religious Life (OSRL) at Emory University provides varied and rich opportunities to enhance the religious and spiritual life of members of the Emory community, including creating and sustaining community, encouraging multi-religious service and outreach, and supporting the Emory community in continuing ethical and spiritual formation. OSRL partners with a team of tradition-specific chaplains, religious life advisers and campus ministers to support a wide range of student religious groups recognized by the university. 
The OSRL provides oversight of Cannon Chapel, which was consecrated in 1981. Named for William Cannon, a former dean of Candler School of Theology and later a bishop in the United Methodist Church, the building houses the office of the University Chaplain, Candler School of Theology's offices and academic space. The office works with religious life staff representing various religious traditions on Emory's Atlanta and Oxford campuses to develop an extraordinarily diverse religious life program on both campuses. Hallmark programs include Journeys, the Inter-Religious Council (IRC), International Student Coffee Hour and Off the Record.
---