ATLANTA – Emory Healthcare has been recognized as a 2019 CareerSTAT Frontline Healthcare Worker Emerging Champion for its School at Work (SAW) program for frontline health care staff. The award was presented to Emory Healthcare's Organizational Development and Learning Services team at the National Fund for Workforce Solutions' conference in Dallas, Texas.
CareerSTAT, an employer-led initiative of the National Fund for Workforce Solutions, recognizes employers who are making great strides to support employees on the frontline workforce and want to grow their careers, but may be apprehensive about going back to school.
Emory Healthcare's SAW program, in operation since 2004, graduated its most recent class of eight frontline staff in April 2019. The SAW program connects highly motivated and qualified Emory Healthcare employees to the education process and job advancement opportunities that may become available with increased education and career planning.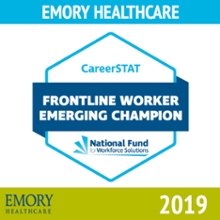 "We are thrilled to receive this special recognition as an Emerging Champion from CareerSTAT for our SAW program," says Debbie Longo, Ed.D., corporate director of Organizational Development and Learning Services at Emory Healthcare. "SAW is a readiness program and a stepping stone into certificate or degree programs for professional roles. It builds workplace skills related to computing, teamwork and communication, medical terminology, patient safety and patient satisfaction, while reinforcing basic reading, math and grammar skills, along with life management skills."
Classes run each year from September to April during daily work hours, so direct leaders of the staff members must approve of their participation in the program. Participants attend weekly classes, which include online activities, guest speakers and facilitated class modules.
"SAW builds a skilled, motivated and loyal health care work force resulting in increased employee retention and engagement, improved job performance and increased patient/customer satisfaction," says Longo. "More than 200 Emory Healthcare employees have graduated from this program over the past 15 years."
Since 2014, CareerSTAT has recognized a total of 51 organizations for investing in the skills and careers of their frontline workers.
---