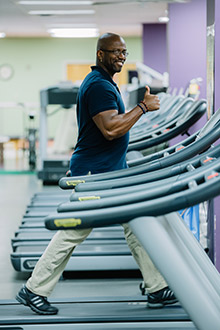 This spring, nearly 6,500 Emory employees laced up their shoes to participate in the annual Move More Challenge, walking more than 2 billion steps throughout the six-week program, which spanned March 25 through May 5.
This was the fourth year of the program and the second year it was offered on Healthy Emory Connect (powered by Virgin Pulse), allowing employees to pair a variety of fitness trackers to record their activity and "move more" with co-workers and friends. 
Over 900 teams virtually traveled through 10 Emory destinations with new 2019 locations including Emory Decatur Hospital, Emory Hillandale Hospital, Emory Saint Joseph's Hospital and Grady Memorial Hospital.
 "We've been thrilled with the continued energy and excitement surrounding this program each year," says Melissa Morgan, senior wellness manager. "With 98 percent of participants willing to recommend the challenge to other Emory employees, we call that a success."
Participants enjoyed the camaraderie of this year's program and a little friendly competition. Crystal Stringer, financial counselor from The Emory Clinic, challenged herself to do at least 10,000 steps every day and kept motivated by participating in several walking events including the Susan G. Komen More Than Pink and Autism Speaks fundraising walks. Stringer noted that the highlight of the challenge for her was climbing Stone Mountain, proudly sharing that, "I let go of my fears and made it to the top!"
D'Auric Willis, anesthesia technician from Emory University Hospital, enjoyed the competitiveness of the teams. He also liked that it brought everyone together at the same time "from Clifton Road to Midtown, Emory Dekalb, Oxford, Saint Joseph's and everywhere in between." 
He used the Healthy Emory Connect app regularly to view his progress and liked the chat feature, saying "the chats were awesome to see what everyone was up to." 
Incentives and winners
Participants who responded to the post-program survey reported that the thing they liked most about the Move More Challenge was the opportunity to earn points toward their Emory medical plan incentives. Plus, those who met set step thresholds racked up 5,000 or 10,000 bonus points at the end of the six-week challenge.
Participants also could win prizes like gift cards and Georgia Aquarium tickets. New this year were the weekly surprise prizes, randomly raffled to any participant who achieved 6,000+ steps on a given "surprise day." More than 500 prizes were awarded to those who achieved 250,000 steps or more by the end of the challenge.
This year the top 100 steppers each walked more than 820,000 steps. Forty-one employees reached more than 1 million steps despite the shorter length of this year's challenge (previous challenges lasted eight weeks).
Keeping it going
Although the challenge may be over for now, Morgan says she hopes the awareness gained from the experience of "moving more" will stay in the minds of Emory employees.
"Join a walking group or start one of your own, challenge others to a Weekday Step-Off on Healthy Emory Connect, or schedule walking meetings," she says. "Find activities that you enjoy and keep setting new personal goals."
---