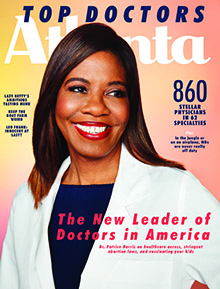 ATLANTA – More than half of the physicians recognized in the annual "Top Doctors" issue of Atlanta magazine are physicians within Emory Healthcare, Emory Healthcare Network, Emory medical staff or faculty of Emory University School of Medicine. The July issue of Atlanta magazine can be found on newsstands beginning June 25, and magazine subscribers should have already received their issue at home.
This year, 469 Emory physicians made the "Top Doctors'" list out of 860 doctors named in the publication. That means Emory doctors make-up 55 percent of the doctors recognized in the issue, more than any other health system in metro Atlanta.
"We are pleased to have so many excellent physicians across multiple specialties represented in the 2019 'Top Doctors' list," says Jonathan S. Lewin, MD, president, CEO and chairman of the board of Emory Healthcare. "These physicians are highly regarded and selected by their peers for this recognition. We thank them for the superior care and dedication they give to our patients and their families every day."
Featured on the cover of this year's "Top Doctors" issue is Patrice Harris, MD, an adjunct professor in Emory's Department of Psychiatry and Behavioral Sciences. She completed her residency in Emory School of Medicine's general, child and adolescent psychiatry programs, as well as her fellowship at Emory. Harris was recently sworn in as the 174th president of the American Medical Association, the nation's premier physician organization. Harris is the first African-American women to hold the office. 
Castle Connolly Medical Ltd. was founded in 1991 to help guide consumers to America's top doctors and top hospitals. To compile the annual "Top Doctors" list, the health care research and information company uses a survey, research, screening and selection process involving hundreds of thousands of physicians, along with academic medical centers, specialty hospitals and community hospitals across the nation to nominate top doctors. Castle Connolly's physician-led team of researchers follows a rigorous screening process to select top doctors on both the national and regional levels. Doctors do not and cannot pay to be selected and profiled as Castle Connolly "Top Doctors."
In late 2018, Castle Connolly Medical Ltd. was acquired by Everyday Health Group, one of the world's most prominent digital health care companies.
---