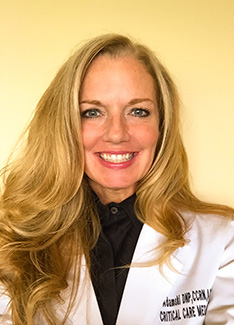 Nell Hodgson Woodruff School of Nursing Assistant Clinical Professor Jennifer Adamski DNP, APRN, ACNP-BC, CCRN, has been elected to the American Association of Critical Care Nurses' Board of Directors. She will serve a three year term beginning this year through 2022. 
Dr. Adamski is the director of the Adult-Gerontology Acute Care Nurse Practitioner program at the Emory School of Nursing. In addition, she maintains a clinical practice as a critical care Acute Care Nurse Practitioner (ACNP) for the Critical Care Flight team at Cleveland Clinic, which is the first in the country to have an Nurse Practitioner (NP)-managed flight team. Dr. Adamski is an expert critical care clinician and educator with 16 years of critical care nurse practitioner experience and serves as an Advanced Practice Registered Nurse (APRN) expert witness for trauma and critical care nationally. 
She also serves as an independent consultant for APRN model development throughout the U.S.  Dr. Adamski is an APRN representative to the Georgia Board of Nursing and holds leadership roles in multiple national organizations including the American Association of Nurse Practitioners (AANP), the Society of Critical Care Medicine (SCCM) and the Society of Trauma Nurses (STN).  
Her scholarship and areas of research include trauma prevention and system development, rapid response teams and critical care/trauma advances in hemorrhagic shock.  She is a co-author for the new Springer Adult-Gerontology Acute Care Nurse Practitioners (AGACNP) review manual, published in 2019. Dr. Adamski is also a content expert for the American Nurses Credentialing Center (ANCC) AGACNP review. 
Dr. Adamski has lectured locally, nationally and internationally on the critical care NP model, trauma resuscitation and management and has received numerous distinguished awards for clinical practice, education and leadership, including most recently the March of Dimes Critical Care Nurse of the Year award.
---