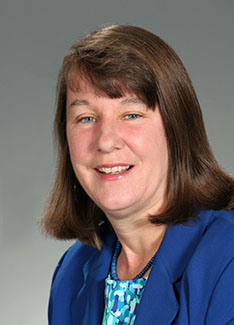 Nell Hodgson Woodruff School of Nursing Assistant Professor Kate Yeager, PhD, RN, FAAN, and member of the Winship Cancer Institute of Emory University, is leading a $1.8 million National Cancer Institute (NCI) R01 study to understand how Chronic Myeloid Leukemia (CML) patients take their oral chemotherapy medication. This funding will be distributed over the next four years.
This study includes following 120 patients over a one year period to see how they take their medications daily and how side effects influence how often they take it. Yeager says her study will examine the impact of side effects from tyrosine kinase inhibitors (TKI), a treatment option for CML patients.
"This grant enables one of our university's most talented researchers to learn from patients through a unique longitudinal study of those living with CML," says Emory University Senior Vice President for Research Deborah Bruner, RN, PhD, FAAN. "Dr. Yeager began her career as a bedside nurse, providing care for cancer patients. She has a longstanding interest in improving care for these patients. This study will be a part of that career-long endeavor."
TKI drugs have doubled the 5-year survivor rate for CML patients. However, side effects like fatigue or pain cause some patients to intentionally skip a dose. This includes the newest side effect of cancer treatment - financial toxicity. Yeager's study will track when patients take their medication. Participants in her study will be a part of a data collection effort using pill bottles with chips in the lids. This chip sends Yeager time-stamped information on when the bottles were opened.
"We know individuals with cancer sometimes skip medication because the medication makes them feel bad," says Yeager. "We also know that the costs cancer patients pay for treatment including out of pocket costs like co-pays, parking costs and lost wages results in financial hardship. Unfortunately, patients sometimes skip medicines because of the cost. If CML patients don't take TKIs as prescribed, they will experience poor clinical outcomes."
With detailed information from the chips in pill bottle lids, the researchers can determine adherence patterns. Along with in person visits every 3 months and phone appointment monthly, side effects plus cancer care costs will be monitored closely. This information will be used to understand what influences the adherence patterns, along with the effect on clinical markers related to their leukemia status. 
In addition to these patient assessments, one-on-one qualitative interviews will be conducted with a subset of patients. This will give a more complete picture of the experience.
"This is a patient-focused study," explains Yeager. "Patients are the experts about medication side effects. They are the ones who will inform me."
---