Emory Saint Joseph's Hospital is the first community hospital and one of only three hospitals in the world to achieve its sixth consecutive Magnet designation from the American Nurses Credentialing Center's (ANCC) Magnet Recognition Program®. The ANCC made the announcement to a room full of excited Emory Saint Joseph's Hospital nurses, physicians, administrators and other staff members. Magnet designation is a reflection of nursing professionalism, teamwork and quality in patient care, and the highest national honor for professional nursing practice.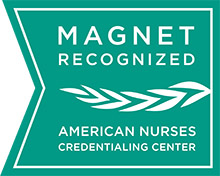 Emory Saint Joseph's became the third hospital in the world to receive Magnet designation, with its first designation in 1995. It is now one of 492 U.S. hospitals out of more than 6,300 U.S. hospitals to achieve Magnet recognition.
"Magnet is about the culture of an organization," says Julie Swann, vice president of Patient Care Services and chief nursing officer at Emory Saint Joseph's. "For us, living our mission of delivering compassionate, clinically excellent health care in the spirit of loving service to those in need, is our foundation. Our patients are the true north. Through this, our nursing teams strive to deliver outstanding, evidence-based care with a huge support structure surrounding us."
Swann goes on to say, "We are blessed to work in an organization that values the ANCC Magnet designation and are proud to be the third hospital in the world to receive the designation."
The ANCC commended Emory Saint Joseph's Hospital in six areas of excellence, including transformational leadership, exceptional guidance for new graduate nurses, exemplary professional practice and outstanding outcomes in heart attack care in the emergency room, plus more.
"I am so proud of our superior team of nurses and the difference they make to every patient and every family member as they deliver care each day," says Heather Dexter, CEO of Emory Saint Joseph's Hospital. "I am also so proud of our nurses for supporting each other, as this recognition cannot be accomplished without support from the entire hospital family."
Magnet recognition has been shown to provide specific benefits to health care organization and their communities, such as:
Higher patient satisfaction

Lower mortality rates

Higher job satisfaction among nurses

Lower nurse reports of intentions to leave their positions
Emory Saint Joseph's is a part of Emory Healthcare, the only health care system in Georgia to have three hospitals recognized by Magnet, including Emory University Hospital and Emory University Orthopaedics & Spine Hospital.
"A sixth consecutive Magnet designation for Emory Saint Joseph's Hospital is quite an achievement, and well deserved by an outstanding nursing team and outstanding leaders to support the mission," says Sharon Pappas, PhD, RN, chief nurse executive for Emory Healthcare. "This is a special day for Emory Saint Joseph's and all of Emory Healthcare, as it is a strategic priority to have all hospitals and Emory Clinics throughout our system achieve Magnet recognition."
To achieve initial Magnet recognition, organizations must pass a rigorous and lengthy process that demands widespread participation from leadership and staff. This process includes an electronic application, written patient care documentation, an on-site visit, and a review by the Commission on Magnet Recognition. Health care organizations must reapply for Magnet recognition every four years based on adherence to Magnet concepts and demonstrated improvements in patient care and quality.
Magnet recognition is taken into consideration when health care organizations are ranked nationally for their clinical programs and expertise. In fact, U.S. News & World Report's annual issue of "America's Best Hospitals" includes Magnet recognition in its ranking criteria for quality of inpatient care.
---