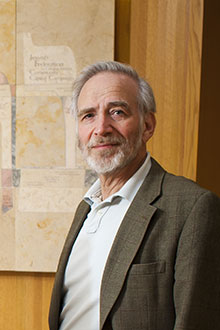 Melvin J. Konner, Samuel Candler Dobbs Professor of Anthropology and Behavioral Biology at Emory, will present this year's John F. Morgan Sr. Distinguished Faculty Lecture.
Konner will speak on "Believers: Faith in Human Nature," which is also the title of his forthcoming book, on Tuesday, March 26, at 5 p.m. in the Presentation Room of the Oxford Road Building.
The lecture, immediately followed by a reception, is free and open to the public, but space is limited. Click here to RSVP.
Konner's lecture will be a preview of his new book, to be published in September, which explores the psychology, development, brain science, evolution and even genetics of the varied religious impulses we as a species experience.
"I was raised as an Orthodox Jew and lost my faith at age 17. But I never had a triumphalist view of my non-belief," he says, explaining how over the last 20 years he has grown concerned by some scientists and philosophers who want to eliminate religion.
"I resolved to write a book about my own position, explaining why (despite my own non-belief) I think that faith (although not for everyone) is a part of human nature that neither can nor should go away," Konner says.
Konner, who also holds appointments in Emory's Neuroscience and Behavioral Biology program and its Tam Institute for Jewish Studies, is known for his pioneering research exploring links between biology and human behavior, medicine and society, and nature and culture.
In 2016, Konner was elected to the American Academy of Arts and Sciences. He is a fellow of the American Association for the Advancement of Science (1996) and was a member of the board of trustees of the Russell Sage Foundation from 2000-2010. 
Konner spent two years among the !Kung San (Bushmen) of the Kalahari, an experience that helped inform the first book ever published about the "Paleo" diet, titled "The Paleolithic Prescription: A Guide to Diet and Exercise and a Design for Living," co-authored by Konner, S. Boyd Eaton and Marjorie Shostak.
His 11 books are noted for being both scientifically significant and widely popular. "The Evolution of Childhood: Relationships, Emotion, Mind" was named one of the Best Five Books of 2010 by The Atlantic Magazine and one of the Top Ten Science Books of 2010 by Amazon.com. Among his other books are "Women After All: Sex, Evolution and the End of Male Supremacy," "The Tangled Wing," "Becoming a Doctor" and "Unsettled: An Anthropology of the Jews." 
Konner also writes for major newspapers and magazines: His articles have appeared frequently in The New York Times, Newsweek and The Wall Street Journal, among many others.
Konner holds PhD and MD degrees from Harvard University and taught there before joining Emory in 1983.
---