Emory University's Office of Technology Transfer will celebrate its faculty entrepreneurs and their innovative discoveries at the 13th Annual Celebration of Technology and Innovation.  
The celebration will be held Thursday, March 21, 2019 at the Emory Conference Center, Silver Bell Pavilion, 1615 Clifton Rd., Atlanta, GA 30322.
Registration begins at 4:30 p.m., and the program begins at 5 p.m., followed by a reception.
RSVP: https://bit.ly/2Q7ukHU
For questions, contact Quentin Thomas: qjthoma@emory.edu, 404-727-1899
Annual Celebration Winners 2019: 
Innovation of the Year:
Alexidine and analogs to treat lung cancer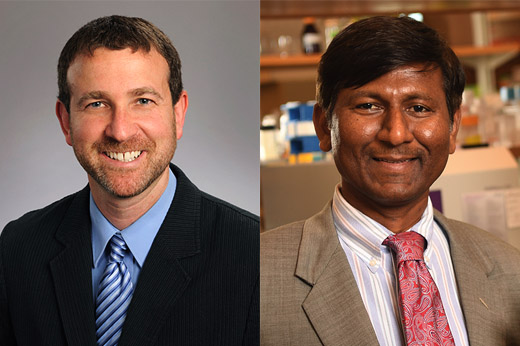 Adam Marcus, PhD (hematology and medical oncology)
Thota Ganesh, PhD (pharmacology and chemical biology)
Lung cancer is the second most prevalent type of cancer, causing more than 150,000 deaths in the United States per year. Cancer cells have the ability to invade adjacent tissues and stimulate neovascularization, which is the critical mechanism of tumor growth and metastasis. Compounds that inhibit this mechanism may serve as a potent therapeutic. Adam Marcus and colleagues have identified a compound, alexidine dihydrochloride, and two analogs that are potent inhibitors of cancer cell invasion, specifically for lung cancer. Further work is being done to test the analogs in cancer disease models as potentially the first anti-metastatic agents targeting invasive cancer cells.
Deal of the Year:
Covanos, Inc.: Vascular diagnostics software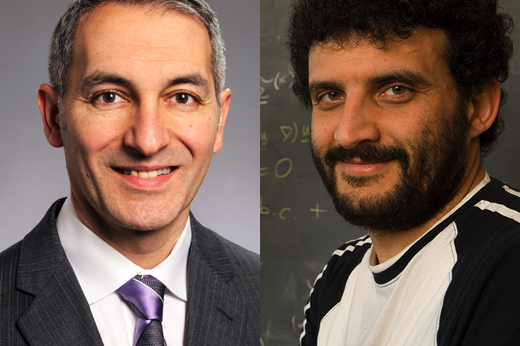 Habib Samady, MD (cardiology)
Alessandro Veneziani, PhD (mathematics/computer science)
Heart disease is the leading cause of death in the United States in both men and women, with over 600,000 deaths each year, and coronary artery disease is responsible for almost 400,000 deaths annually. In 2018, Emory entered into a license agreement with Covanos, Inc. for vascular diagnostics software to enhance non-invasive diagnosis of coronary artery disease. Fractional flow reserve (FFR) is a technique commonly used in coronary catheterization to identify blockages causing blood flow restriction that warrant stenting or angioplasty; however, FFR methods are limited in their ability to obtain accurate measurements. Drs. Samady, Veneziani, and their team developed a software system for non-invasive determination of FFR using patient-specific imaging, physiological measurements, and computational fluid dynamics. The high-net-worth license with Covanos, Inc. has the potential to generate more than a million dollars in revenue to Emory during the term of the agreement for this technology.
Start-up of the Year:
Neuronetics, Inc.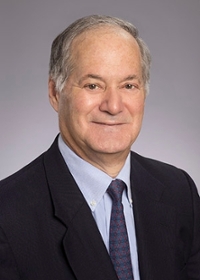 Charles Epstein, MD (neurology)
In 2001, Emory University entered into a license agreement with Neuronetics, Inc. for Dr. Charles Epstein's research in magnetic stimulation, which contributed to the success of Neuronetics' NeuroStar® Advanced Therapy System. Neuronetics, Inc. is a commercial-stage medical device company focused on products that improve the quality of life for patients who suffer from psychiatric disorders. The NeuroStar system is the leading TMS treatment for major depressive disorder and is backed by the largest clinical data set of any TMS system. In 2018, Neuronetics closed its initial public offering and closed the year with more than $50 million in total revenue. Neuronetics also launched its first national television advertising campaign for TMS therapy.
Significant Event of the Year:
Antios Therapeutics: License agreement and Series A Financing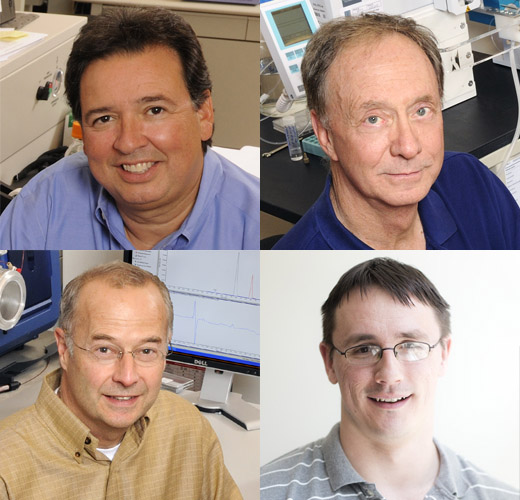 Abel de la Rosa, PhD (DRIVE and Emory Institute for Drug Development)
George Painter III, PhD (DRIVE and Emory Institute for Drug Development)
David Perryman, JD (DRIVE) 
Greg Bluemling, PhD (Emory Institute for Drug Development)
Hepatitis B virus (HBV) is an infectious disease that targets the liver and results in an acute or chronic infection. An estimated 257 million people worldwide live with HBV infection and over 800,000 deaths result from HBV and related complications, which include cirrhosis and hepatocellular carcinoma. Drs. Bluemling, de la Rosa, and Painter developed ATI-2173, a leading candidate for the treatment of HBV, and licensed it through Drug Innovation Ventures at Emory (DRIVE). DRIVE is a not-for-profit LLC that, while wholly owned by Emory University, functions with the independence of a biotechnology company. DRIVE sublicensed its rights to ATI-2173 to Antios Therapeutics, a startup biopharmaceutical company devoted to developing innovative therapies for viral diseases. Antios Therapeutics raised $25 million in oversubscribed series A financing to pursue the HBV drug.
---
Emory University's Office of Technology Transfer has more than 30 years of success in guiding scientific discoveries from the laboratory into the marketplace. Emory currently manages more than 1,500 technologies disclosed by its scientists and physicians. This has led to the formation of 82 new companies and the introduction of more than 46 new products into the marketplace, some of which, like the discovery of several HIV drugs, have had major health and societal impact.
Emory startups have received $1 billion in private investment capital, $314 million in public investment capital, and $13.5 billion from mergers and acquisitions. Emory has filed 4,709 patent applications and been issued 514 U.S. patents and patents in 85 countries since FY1997. Emory has executed more than 750 license agreements with industry, resulting in more than $860 million in licensing revenue, creating additional funding for new and ongoing research.
---