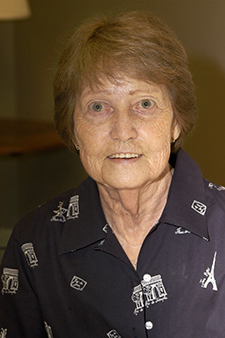 It is with heavy hearts that the Nell Hodgson Woodruff School of Nursing announces the January 5, 2019 passing of Shirley Jo DuBois Carey, RN, MSN, PhD ('82).
After 27 years with the Nell Hodgson Woodruff School of Nursing, Dr. Carey retired in 1999. At Emory, she taught graduate courses and developed the maternal and child health majors as a clinical focus. Dr. Carey also explored a new medium - educational film making. She produced three highly respected films now in the National Library of Medicine.
Dr. Carey taught and graduated over 300 students in the course of her tenure at Emory, all of which stayed in contact with her over the years seeking advice, recommendations and support. She truly touched each and every one she knew with compassion, love and integrity.
Join Us in Honoring Shirley Carey
The family will receive friends and family from Noon – 1:00 p.m. Saturday, January 12, 2019. The service will follow at 1:00 p.m. at Memorial Park Funeral Home, 2030 Memorial Park Dr., Gainesville, GA, 30504.
The family has requested that memorial gifts may be made to the Emeritus Faculty ScholarshipFund at Emory's Nell Hodgson Woodruff School of Nursing.  You can give online or send checks made out to Emory University to Office of Gift Records, Emory University; 1762 Clifton Road, Ste 1400 MS: 0970-001-8AA; Atlanta, GA 30322-400; Re: Shirley Carey.
You may also share your personal condolences and messages to Shirley Carey's family through this brief online form. All messages will be delivered to Shirley Carey's family on your behalf.
Questions can be directed to Amy Dorrill, Associate Dean of Advancement and Alumni Engagement at the School of Nursing at 404-727-6264.
---